Service Credit Union recently celebrated the opening of its newest branch inside Cheshire Medical Center (CMC) in Keene. The grand opening included a ribbon cutting ceremony with Mayor of the City of Keene Kendall Lane and hospital's Chief Operating Officer Christine Schon.
"I would like to welcome you to the Cheshire Medical Center," said Schon. "I was actually thrilled. I came in mid-October and saw the branch was converting. Great, I'm a Service Credit Union member. I can run downstairs and do all my banking."
Service Credit Union President/CEO David Van Rossum gave special recognition to Pamela Melvin, past President of Cheshire Health Federal Credit Union Board of Directors, who was instrumental in the merger. She has a long history with CHFCU, working part-time there when she was in high school. She was promoted to branch manager before leaving the branch to serve on the Board of Directors.
"Service Credit Union embodies similar member service philosophies, has an expanded branching network, and offers state of the art products and services," said Melvin. "The hospital and the community have embraced Service Credit Union and we expect a great relationship for years to come."
The Cheshire Health Federal Credit Union was established more than 50 years ago to serve the employees of Cheshire Medical Center/Dartmouth Hitchcock" Keene. This new branch expands Service Credit Union's footprint in the Southwestern part of the state with branches in Keene and Hinsdale. Service Credit Union also has a branch inside Dartmouth Hitchcock Medical Center in Lebanon.
"Service Credit Union is grateful for the support of the CHFCU Board of Directors and the Cheshire Medical Center for making this merger possible," said David Van Rossum.  "We look forward to serving the CMC  community with the same friendly member service that they have become accustomed to."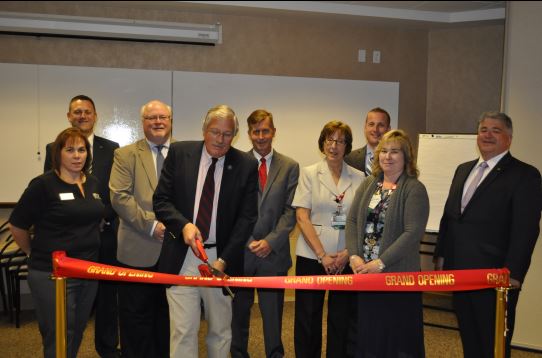 Caption: Celebrating the Grand Opening of the Cheshire Medical Center branch, left to right, are Branch Manager Pam Bailey, SCU Member Services AVP Matt Beaulieu, Greater Keene Chamber of the Commerce Phil Suter, Keene Mayor Kendall Lane, SCU President/CEO David Van Rossum, CMC COO Christine Schon, SCU Member Services AVP Ryan Healey,  former Cheshire Health Federal Credit Union Board of Directors President Pam Melvin and SCU COO Dan Clarke.