Service Credit Union has announced a sponsorship with the 3rd New England Country Music Festival which will allow free tickets to veterans and active military personnel (including Guard and Reserve) to the event. The festival will be held on Sunday, August 6th from 1 pm to 9:30 pm at the Redhook Brewery in Portsmouth.
Free tickets are available to anyone providing an active military ID or evidence of service at local Service Credit Union branches starting Saturday, July 1st while supplies last.  Tickets will also be available at the gate. Fans who are not veterans or active duty military may purchase tickets by visiting www.necmharbor.com. This all-weather event also offers free admission to kids ages 12 and under.
"Service Credit Union is proud to have this opportunity to give back to those who defend our country," said David Van Rossum, President/CEO of Service Credit Union. "We are looking forward to sharing the experience of the festival with the members of the military community."
The family friendly event will feature country music acts Frankie Ballard, Michael Ray, William Michael Morgan, Casey Derhak, Timmy Brown, Jimmy Connor, Paige Davis and DJ Mikey Fletch. This group of country music artists account for six number one hits on country music radio stations.
"We are thrilled to host this great festival for our community.  Giving back is very important to my partner, Chris (Whynock of New England Country Music) and I," said Amanda Morneault of The Harbor Agency. "This is the perfect opportunity to show a small token of appreciation for all that our service men and women do for our country.  Thank you to Service Credit Union for helping to make this possible."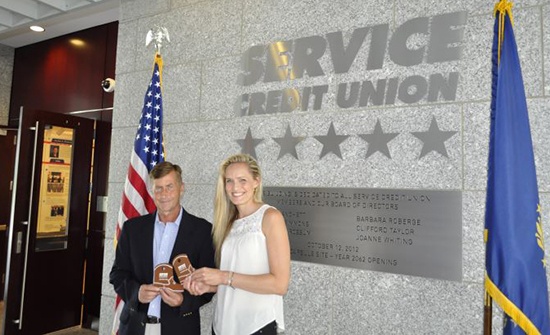 Service Credit Union President/CEO David Van Rossum (left) and Amanda Morneault of The Harbor Agency display SCU designed custom "Koozies" for the 3rd Annual New England Country Music Festival to be held Sunday August 6th at Redhook Brewery in Portsmouth.