How to Get Your Kids Excited About Saving
---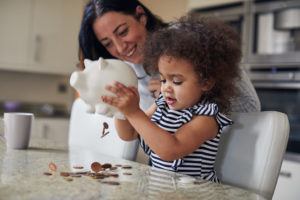 April is Credit Union Youth Month, and while we've had to adjust the way we celebrate it in light of current events, we're excited to partner with our friends at The Money Mammals and the Credit Union National Association to encourage children to develop healthy savings habits.
The official theme for this year's Credit Union Youth Month is "Money Magic! Share, Spend and Save at Your Credit Union," which highlights the importance of saving, spending, sharing, investing, and budgeting through five kid-friendly characters that get children excited about saving.
If you have young children, it might seem like it's too early to teach them about finances, but a study by the University of Cambridge found that money habits in children are formed by the time they're 7 years old. While you might not want to teach your kindergartener the ins and outs of APRs, APYs, and mortgage terms, it's never too early to start talking about good money habits and setting an example yourself.
A piggy bank is a great, old-fashioned way for preschoolers and young elementary school-age children to start saving. Why not take it a step further and try out the three jar system? This is a simple way for kids to learn to make smart money choices by setting aside one jar for saving for long-term goals, one for charitable giving, and one for spending.
Consider introducing an allowance when you feel your child is ready, which is typically around 5 or 6 years old. While many of us may have grown up earning an allowance for chores, many experts now advise keeping the two separate, as it may turn allowance (or the lack thereof) into a disciplinary tool rather than a learning tool. Rather, children should do chores to feel included in household responsibilities. That being said, it is still OK for kids to earn money for extra tasks.
As you give your child money, be sure to discuss budgeting along with saving, and introduce the idea of what things cost when you are out in the store, or even shopping online. My four-year-old recently told me she thought a house cost $30, which means she's 2/3 of the way to moving out based on the current amount of savings in her piggy bank.
Work with your child to create long and short-term savings goals, and work with them to regularly put money towards those goals, whether it's a new toy or an ice cream trip with the family. The Money Mammals have a Save for a Goal app that can help with this, as well as fun games they can play to earn badges for their learning. If your children are older (8 and up), they even have games that explain things such as compound interest. This month, we are partnering with Money Mammals for a coloring contest in which children can win prizes by sharing photos of their colored printables from the Money Mammals site with the hashtag #ImACreditUnionKid.
Once you're ready to go beyond the money jar, consider opening a kids' savings account with your child, such as Service Credit Union Primary Savings Account, which includes our Youth Club.
Whatever your kids' savings goals may be, now is the time to set good savings habits for life!