By Carolyn Pittman – August 9, 2018
A house that is staged to look like something out of a magazine will probably sell faster than one that is not. But if you don't have the option of living somewhere else while you're trying to sell, the idea of living in a pristine, museum-like setting can be more than a little overwhelming.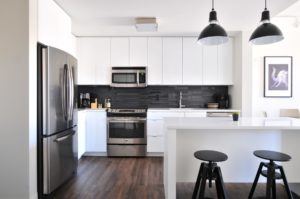 When I first pitched this post, my husband and I were in the process of getting our house ready to sell and had no idea how long the process would take. Thankfully, from the day of the photo shoot to the day our house was under contract was all of 14 days, but keeping evidence of our lives out of sight during that time required some changes to our daily routines.
Hopefully, staging your home will lead to a speedy sale for you as well, but no matter the wait time, these tips should help you maintain both your house and your sanity for as long as it takes.
1) Know when you'll be showing
Our realtor used a service that sent us a text in advance of showings. We had the option to approve, reschedule or deny them with our phone. Additionally, we opted not to do any showings on Mondays, Wednesdays or Fridays without 24 hours' notice so we could leave our dog home on those days. Having to only worry about having the house show ready for two out of five work days was a huge relief to us, but could have been problematic for some buyers.
2) Keep a schedule
Once we knew when we would be showing, we knew what we had to plan on. Aside from making arrangements for the dog to be cared for on show days, we had to change our work and social schedules as well. Using Google Keep, we set up two recurring lists of tasks: one for show mornings and one for the night before. We scheduled a cleaning service to come every other week to dust, do the floors and clean the bathrooms. We also planned on making weekly trips to the flower market and made plans that kept us out of the house on the weekends. Even if there were no showings scheduled, it was far easier to plan on them and be ready than to have to rush around and clean if we did get a text from the realtor.
3) Clean like someone important is coming to visit
The truth is, someone important IS coming to visit; someone who is going to offer up their hard-earned money for your house. And even though you don't know who they are or what day they will arrive, you don't want that dish left in the sink to mar a first impression. On the day of a showing, before we left the house, it was swept and vacuumed (thank you robot vacuums!), all dishes and laundry were done and put away (no leaving dishes in the dishwasher!), litter boxes were cleaned, trash was taken out, beds were made, dog toys picked up off the floor, countertops wiped down and a last run through the house confirmed all drawers and cabinets were shut, toilet lids were down and shower curtains were pulled closed. It made for some crazy mornings, but ensured that the house was ready for whomever might make an appearance.
4) Cook simply (or not at all)
There's nothing like coming home to the smell of a home-cooked meal after a long day; unless of course it was last night's meal and it is a food you are not a fan of in general. In order not to turn off buyers that may be sensitive to certain food smells, plan on grilling outside, cooking simple meals, ordering takeout or just eating out. Not only will this keep your kitchen smelling fresh and clean, but will save you from doing a lot of dishes as well. An additional perk that we found in our house was that we both lost a few pounds due to increased salads as dinners while we were staging!
5) Be kind
Living in a staged home can be like walking on eggshells. Reaching for a tissue and realizing you have no idea what secret place they have been moved to can be just what it takes to send you over the edge somedays. Keep in mind, everyone in your house is living under the same pressures, and it may have been you that thought the silverware drawer was a good place to stash the spare car key. Things will be hard to find and communication will be crucial during this time. Don't make the process harder by letting it come between the members of your household. With the common goal of a successful sale between you, following these tips will get you comfortably on your way to a new home in no time!