Thank You for Visiting Us! Enter to Win Four $25 Visa Gift Cards.*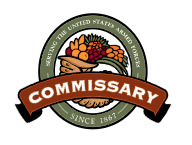 We are proud to be a sponsor of the 2023 Holiday Bazaar, taking place Friday, November 3 to Sunday, November 5 at the Special Events Center on ROB. As a token of our appreciation, we're giving you the chance to win four $25 Visa gift cards.* Simply fill out the form below and see the official rules for more details.
Dates and Hours of shopping are:
Friday, November 3 from 10 a.m. to 7 p.m.​
Saturday, November 4 from 10 a.m. to 7 p.m.​
Sunday, November 5 from 10 a.m. to 5 p.m.
*No purchase necessary to win. One (1) entry awarded to each eligible participant that completes the online entry form during the sweepstakes period from 10:00 AM CET Friday, November 3, 2023 – 5:00 PM CET Sunday, November 5, 2023. Must be a lawful permanent resident of the United States and 18 years of age or older. Individuals located overseas that are not covered under SOFA and do not have Individual Logistical Support (ILS) are not eligible.​ See official rules for additional sweepstakes details and eligibility requirements.