We have been made aware of a text-messaging scam targeting members. Learn more.
It has come to our attention that there is an active "smishing" (SMS phishing) scam targeting our members. Affected members have received a similar text to the one below indicating there is an issue with their account and they should, "contact us immediately."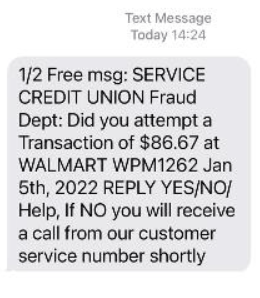 When members respond "no" to the fraudulent text, they immediately receive another one citing a different financial institution's name.
Service Credit Union does send legitimate text alerts that look similar to this, however, if you respond "no" to our text message, we then instruct you to call us directly at 800.936.7730.
Our Fraud Department will in some cases call a member to follow up on a fraud alert. On these calls, they will be asking you to review transaction history and contact information. They will never ask for your full card number or account number.
We will never actively attempt to solicit personal information from members over the phone. If you feel like you may be getting contacted by a scammer, follow your instincts and end the call. Then, to ensure you are speaking with a Service Credit Union representative, please call us directly at 800.936.7730 (US) or 00800.4728.2000 (International).
For more information on keeping your finances safe, including avoiding SMS scams, visit our Security Center.