How Service Credit Union Is Making Learning a Reality
---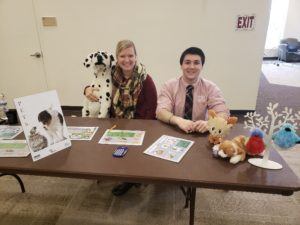 Most of us know the importance of saving and spending smart, but don't think about how important it is to teach real-life financial skills from a young age. In school, we're required to learn the Pythagorean Theorem to graduate, but not always required to learn about personal finance, credit, and taxes. That's why at Service Credit Union, we commit ourselves to enriching the financial well-being of members and their families, at all ages.
The credit union motto is "People Helping People" and that's why we dedicate resources to educate students before they enter the real world through simulated Reality Fairs. Service Credit Union has been utilizing the CU4Reality™ program since 2007, when it was devised through America's Credit Union as a catalyst youth financial education program for middle-school students. Reality Fairs are a wonderful way for us to teach students the financial realities of adulthood, such as personal finance, credit, and savings – aka #adulting.
At the same time as students prepare for the new school year with new backpacks and supplies, Service Credit Union's Education Department prepares for a new year of Reality Fairs. Throughout the school year, we strategically partner with dozens of schools in New Hampshire, and on U.S. Army and Air Force bases in Germany, where Service Credit Union has overseas branches, to implement financial education curriculum. Kicking off the school year is always refreshing after the summer break when we get the opportunity to reflect on the previous year and update materials.
For our stateside operations, the first Reality Fair of this school year was held at Southern New Hampshire University for Bedford High School and Monadnock Regional High School students on October 31st – a total of 154 students. High-school students are at a pivotal age where they must seriously think about what they will do when they graduate: "Will I go to college, or a trade school, or take a gap year?" Christina Wilczewksi, a business teacher at Bedford High School, commented on how students at this age are beginning to learn the costs of utilities and insurance and how on-time payments impact a credit score. After completing the activity, students often comment on how they have a greater appreciation for their parents. What more could we ask for?
Our second Reality Fair was for Gilbert H. Hood Middle School in Derry, NH. The teachers at this school invite us to guest-speak in the classroom prior to the event. We teach credit union history and explain the difference between credit unions and banks (hint: credit unions are not-for-profit). We ask questions such as "Why would you want to have a savings account?" Students at this age are beginning to explore careers and we discuss how high school is the ideal opportunity to take a variety of classes to learn about your passions. Additionally, we remind students how manners go a long way, and to be respectful to our volunteers, who take time away from their normal workday because they believe this program empowers and enriches students. 190 students participated in the Reality Fair on November 9th in the school gym and they learned quickly how fast their money can be spent on essentials, such as housing, transportation, food and, of course, video games.
Reality Fairs help us create valuable, enduring relationships with both our employees and our communities. For nearly seven years, I've coordinated these events and seen firsthand how we make an impact: happy employees, thankful teachers, and active students who will hopefully think of us first for their financial needs in the future. These are essential skills we all need to learn regardless of what career path we take and it should be a requirement to graduate high school. We invest our money, time, and resources because our communities are our most valuable asset. As we finish planning the remaining reality fairs for the 2018-19 school year, the Education Department is #ReadytoTeach.
If you are a teacher and interested in a partnership with Service CU's educational outreach, please contact eddept@servicecu.org