SCU VP Drouin Receives CCUA Young Professional Award
---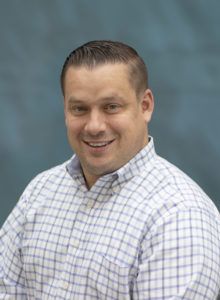 The Cooperative Credit Union Association (CCUA) recently presented Service Credit Union Vice President Controller Bob Drouin with the Young Professionals Award of Excellence.
The award signifies a young professional, under 40 years of age, who best demonstrates a commitment to the values and principles defining the credit union's mission. The 38-year-old Drouin was one of 11 recipients in the CCUA's area of New Hampshire, Massachusetts, Rhode Island and Delaware.
Drouin is responsible for the Accounting, Finance, Deposit Operations, Payroll and Data Analytics departments, handling all financial aspects of the credit union and all corresponding reporting. He manages the credit union's annual budget and re-measurement of variances between actual and budgeted expectations.
Overseeing 21 people in the various departments, Drouin promotes a culture which encourages and ensures accuracy in reports and collaboration among departments. He has a thorough understanding of the credit union's financial operations, data metrics and business intelligence reporting. He has a wealth of knowledge in accounting, finance, operations and auditing oversight, and he is called upon by other departments frequently as a subject matter expert in those areas. He is a member of the CUNA (Credit Union National Association) Finance Council and the Conference Committee and a past member of the Innovation Committee for the CFO Council along with being the treasurer of CCUA N.H. Chapter.
According to the CCUA nomination submitted by Service Credit Union, Bob is a self-proclaimed 'numbers guy.' It was under his leadership that the Analytics Department was created to assist the credit union in making informed decisions based on the data. He is careful to analyze every dollar spent by the credit union to ensure a projected return on investment. He been an integral part of changing the mindset of the company to rely on data for educated decision making.
Before being promoted to Vice President in March 2017, Drouin joined Service Credit Union as the Controller in February 2014. He previously served as Vice President/Chief Financial Officer at Commonwealth Cooperative Bank in Massachusetts. Drouin has a BA in Accounting from Merrimack College and MS in Economic Crime Management from Utica College.