Seacoast Veterans Conference Focuses on Keeping Information Safe and Secure
---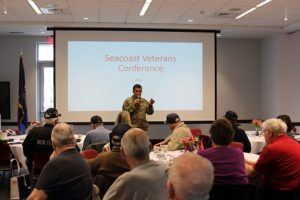 Veterans of all ages and military branches learned how to keep their information safe and avoid financial scams at the 8th annual Seacoast Veterans Conference on Saturday, April 14. This year's conference theme was "Keeping Safe and Secure – Scams and How to Respond."
More than 225 veterans and their families attended the recent event at Service Credit Union's Corporate Offices where Brigadier General (Ret.) Carolyn Protzmann was the Master of Ceremonies, and David Mikolaities, Adjutant General of the New Hampshire Air National Guard, welcomed attendees to the event.
"The success of the annual Seacoast Veteran's Conference continues to grow as more and more veterans and families avail themselves of the resources available at the conference and the strong veteran network for which NH is noted," said Protzmann. "My very special thanks and deep appreciation to all the committee members who tirelessly devoted their time and energy to this huge undertaking, to the sponsors and resource providers, and especially to Service Credit Union for hosting this prestigious event. Their continued and unwavering support to our veterans and their families here, across the nation and around the world is exemplary."
Keynote speaker Rochelle Navelski, a Portsmouth Police Department Detective; Brandon Garod and Sunny Mulligan Shea from the Elder Abuse and Exploitation Unit of New Hampshire's Attorney General's Office; and Attorneys Cheryl Steinberg and Judith Jones of New Hampshire legal power of attorneys delivered educational presentations on types of scams and financial abuse, and how to respond if you are a victim of these crimes.
"Our veterans deserve praise and gratitude for their sacrifices. This event helps provide further education and focus on important initiatives such as avoiding scams and fraud," said David W. Van Rossum, President/CEO of Service Credit Union. "We thank the Seacoast Veterans Conference committee for their unwavering support in helping veterans and their families get the resources they need after they return from their selfless service for us."