Service Credit Union Hosts War Propaganda Poster Art Exhibit
---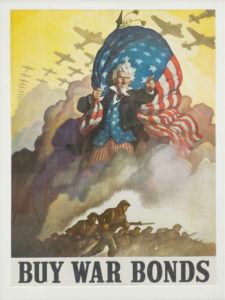 Service Credit Union is pleased to present an exhibit of original World War II Propaganda Posters now through November 9 at its Corporate Offices at 3003 Lafayette Road in Portsmouth. On loan from the Wright Museum of World War II in Wolfeboro, the exhibit features more than two dozen posters which promoted patriotism and nationalism to the general public.
"Our objective is that viewers to the exhibit will become aware of this unique art form and about this important period in American history." said Michael Culver, Executive Director of the Wright Museum. "It gives people a glimpse of what life was like during World War II."
The propaganda posters played an important role of communication that helped keep citizens updated and urged them to support the war effort by enlisting in the armed forces, planting victory gardens and buying war bonds. The posters from the United States displayed positive messaging, which was vastly different from other countries that promoted hatred of the enemy.
"We are excited for this opportunity to display a piece of history in our atrium at our Corporate Offices," said Wendy Beswick, Vice President of Marketing at Service Credit Union. "By partnering with the Wright Museum, SCU can be a closer venue to those in the Seacoast. The exhibit offers insight into World War II through its messaging, use of symbolism and sometimes humor."
Service Credit Union is open Monday through Friday from 8 a.m. until 5 p.m. for normal business hours for the public to view the exhibit.
About the Wright Museum of World War II
On July 16, 1994, the Wright Museum of World War II opened in Wolfeboro, New Hampshire, a creation of its visionary founder David Wright. During the past twenty-four years the Museum has fulfilled David Wright's dream of creating through education a public understanding and appreciation of the exceptional contributions on the home front and the battle fields made by World War II-era Americans.