Service Credit Union Launches Personalized Financial Education Tool for Members
---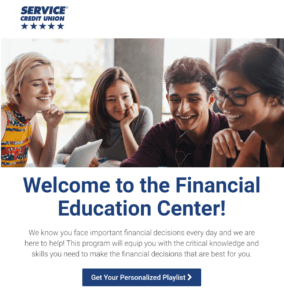 Service Credit Union today announced the introduction of a new mobile-first, financial education resource to help Service Credit Union members build financial health and confidence for themselves and their families. EVERFI Achieve is made available, free of charge, through Service Credit Union's relationship with the leader in financial wellness technology solutions, EVERFI, Inc.
EVERFI Achieve offers a robust library of learning topics around important personal financial education concepts including budgeting, investing, homeownership, retirement planning, and more. The interactive financial education platform is designed to provide consumers with the tools and personalized knowledge necessary to make informed just-in-time financial decisions.
"Providing our members with financial education is crucial to our mission of improving their financial well-being and supporting them so they are equipped to make the best possible decisions for themselves and their families." Says Service CU's VP of Marketing, Wendy Beswick. "We are excited to partner with EVERFI so that we may give our members the tools they need for a better future."
A recent EVERFI study found that 78 percent of adults wish they had more information readily available when making financial decisions1. From opening a credit card to taking out a student loan, buying a home or saving for retirement, most adults feel unprepared to make large financial decisions without additional information. Through EVERFI Achieve, users are guided through interactive exercises that allow them to practice making financial decisions most relevant to them in a fail-safe environment. Each topic area offers a 3-6 minute module designed to enable users to apply what they have learned to their personal financial goals. The mobile-first design is available on all internet-enabled devices so that learners can access it anytime, anywhere.
"Understanding your finances and making sound financial decisions is key to a strong future, but many people don't know where to turn to get the information they need in a way that is easily digestible and understandable," said EVERFI Co-Founder and President of Financial Education, Ray Martinez. "This program is a testimony to EVERFI's commitment to providing financial education to learners of all ages and we commend Service Credit Union for making this commitment to educate their consumers, allowing them to take control of their financial health."
To learn more about the program, visit https://servicecu.everfi-next.net/.
About EVERFI, Inc.
EVERFI is an international technology company driving social change through education to address the most challenging issues affecting society ranging from financial wellness to prescription drug safety to workplace conduct and other critical topics. Founded in 2008, EVERFI is fueled by its Software-as-a-Service (SaaS) community engagement platform and has reached more than 30 million learners globally. EVERFI powers community engagement in a sustained manner to empower individuals and organizations to make an impact within their communities. The Company also convenes Networks to bring together financial institutions, colleges and universities, and some of the largest corporations to leverage insights and connections to drive impact. Some of America's leading CEOs and venture capital firms are EVERFI investors including Amazon founder and CEO Jeff Bezos, Google Chairman Eric Schmidt, Twitter founder Evan Williams, Advance Publications, Rethink Education, and Rethink Impact. To learn more about
EVERFI visit everfi.com or follow us on Facebook , Instagram , LinkedIn , or Twitter @EVERFI.