Recognizing National Service Dog Month
---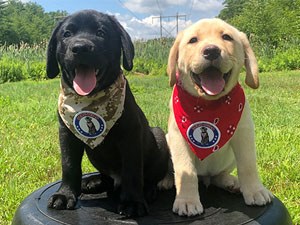 They alert, protect, serve and lead with love. September is National Service Dog Month. This is a time to recognize and bring awareness to dogs that are not only a part of one's family but provide assistance to those with mental or physical disabilities, from blindness and seizure disorders to post-traumatic stress disorder and autism.
Service dogs are an integral part of our society because they provide support to those who need it the most. These dogs come in all shapes and sizes, and dedicate their lives to serve, protect, and assist the people in their care. Service dogs are trained to perform specific tasks for people with certain disabilities. These canines are trained to retrieve items, assist with balance, provide physical and mental alerts due to seizures and panic attacks, open and close doors, turn on and off lights, and more. Service dogs help all different types of people, including veterans, manage their disabilities and live fuller lives.
Did you know, it can cost up to $30,000 to train a service dog?
In honor of National Service Dog Month, we'd like to provide information on some of the misconceptions surrounding service dogs.
Not all people who work with a service dog have a visible disability, as service dogs can provide assistance to people with hidden disabilities. Individuals with service dogs should not be questioned on their medical history.
Did you know that service dogs are not required to wear gear that distinguish them from being a service dog? In the U.S., dogs who provide service to handlers aren't required to wear anything. Although, vests and jackets are very common.
Service dogs are not required to have paperwork. This is false. Service dogs aren't required to have dedicated paperwork such as registration, documentation or certification, although programs that train service dogs do provide them.
Service dogs do bark! Although trained to perform tasks that household pets don't normally do, they are still dogs and some are trained to bark in case of an emergency such as a diabetic shock or PTSD episode.
There are no restricted breeds when it comes to service dogs. There is a misconception that service dogs only relate to certain breeds. Service dogs can be any breed, any size, and any age.
Did you know, the most common service dog breeds are Labrador retrievers, golden retrievers, and German shepherds?
As the month of September comes to an end, we want to extend the awareness of how important service dogs and animals are to the community and our society as a whole. These extraordinary dogs dedicate their lives to alert, protect, serve, and lead people in need every day.
We at Service Credit Union want to spotlight two organizations that not only train service dogs, but are near and dear to our hearts for pairing veterans and first responders throughout New England with these amazing animals. Hero Pups is a New Hampshire-based, nonprofit organization that was started by Laura Barker in 2016 who founded the organization after her son was wounded in Afghanistan. K9 with a Mission is a program that was founded under Swim with a Mission, that helps fund support, service, and pairs service dogs with veterans. Since 2017, they have raised over $6 million to support veterans. Learn more by visiting them online.