How to Avoid Shopping Scams This Holiday Season
---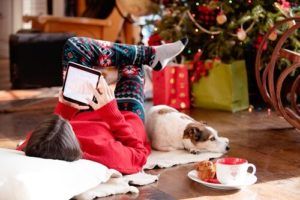 It is officially December and that means, even for the Grinch, preparation for the holidays is in full swing — including holiday shopping. We all know too well by now that just because the holiday spirit is in the air does not mean we can let our guard down.
"Online shopping scams increase by 98% during the holidays," according to Abine, an information security company. Shoppers are at higher risk this year as many people have transitioned to purchasing presents online due to the pandemic. But, fret not fearless holiday fanatics, there are some simple steps you can take that will help you avoid shopping scams this holiday season.
Shop Trusted Retailers
Stick to shopping with retailers that you are familiar with and know to be reputable. Some attackers may try to trick you by creating malicious websites that appear to be legitimate, so you should verify the legitimacy by reviewing the company's website for an accurate telephone number and address before supplying any information.
Check Your Statements
Keep close tabs on what you are spending and where by checking your bank statements regularly. Keep your eyes peeled for irregularities between your receipts and statements. If you note a discrepancy, report it immediately. To help you spot issues, Service Credit Union offers Card Control in Online Banking which helps you monitor your accounts, set spending limits, and set alerts to help protect you against fraud.
Keep Personal Information Personal
Many organizations sell their customer's personal information. A good tip is to check a website's privacy policy before providing any personal or financial information. Be sure you understand how any information you provide will be used or kept.
Be Prepared
Virtual attackers are tricky. Be prepared and know the signs of a malicious online attack.
Email Phishing Attempts – Attackers will misrepresent themselves either as a business, charity or person, via email, and try to convince you to supply personal information.
Targeting unencrypted information—Many websites are encrypted in order to protect your information. Websites that are not encrypted, and do not protect your information, will start with "HTTP:" not "HTTPS:"
Targeting vulnerable computers – If you do not take steps to protect your computer from viruses or other malicious code, an attacker may be able to gain access to your computer and all of the information on it.
Protect Yourself
Protect yourself and your identity as you shop this holiday season with IDSafeChoice.
Service Credit Union has partnered with one of the nation's most trusted names in identity theft protection to provide identity recovery services to our members. For those members of Service Credit Union who suspect identity theft for any reason, IDSafeChoice can recover your good name. Should you fall victim to identity theft, a professional, certified Identity Recovery Advocate will be assigned to manage your recovery- with no time limit or cost. Additional services can be supplemented with your free IDSafeChoice benefits. For more information on these benefits, please visit servicecu.merchantsinfo.com.
If you have any questions, visit us online at servicecu.org or contact Service Credit Union at 800.936.7730 or International: 00800.4728.2000.
Have a happy and cyber-secure holiday!