How to Find Balance as a Student Athlete
---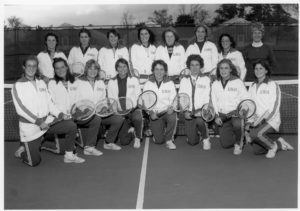 It's been decades since my parents dropped me off at my dorm room ready for college classes but, what I remember most of all is my first day of being a collegiate student athlete. Vivid memories of my time as a UNH student athlete came back to me when I mentored some current University of New Hampshire student athletes at a recent Wildcat Athletic speed networking event.
Through talking with the students, I discovered that some of the same struggles of balancing academics, athletics and social life haven't changed in the more than 35 years since I graduated. Each day is consumed by at least three hours of practice time on the court, gym, rink or field while also trying to schedule weight training and other conditioning. If a student athlete happens to be injured, add at least an hour with an athletic trainer to wrap, ice and go through physical therapy. If you think that can be overwhelming for an 18- to 22-year-old, it is.
So if you're a student athlete or parent of one, here are some simple and doable tips to help strike an ideal balance between academics, athletics and life.
Don't get behind
This piece of advice came from my mother as I unpacked my tennis racquets and got ready to hit the UNH fieldhouse courts. She urged me to get my homework done promptly and allow plenty of time to prepare for quizzes and tests. It was imperative to plan and prioritize what needed to be accomplished. I kept a pocket calendar in my tennis bag noted with all my class assignments, practices, matches and other important dates. By mentoring, I found out that student athletes are now using online calendars for this purpose.
Stay healthy
One would think this would be easy for a student athlete. Yes, there is plenty of cardiovascular exercise but less time to prepare meals or run to the dining hall when you're late for class. Remember to fuel your body with the proper nutrition and drink plenty of water. Also, make sure you are getting the necessary sleep required. Consider using a fitness or nutrition app to make sure you are getting the right food and liquids into your body as well as the right amount of rest.
Keep track of your finances
Like every student, you want to make sure you have enough money. After all, you'll need it for books, school supplies, dorm supplies and entertainment. Remember to account for extras such as replacing equipment, such as sweatbands and athletic shoes, that may not fall into the college budget. Having a Click here for more information regarding our slick banking mobile app with tons of capabilities such as online deposit, account balances and transfers, bill pay and person to person payments is imperative. You can pay your bills or move money while you're on your way to your next intercollegiate game, match or meet.
Have fun
For me, this was easy. Tennis was fun for me and for most student athletes I talked to recently at UNH, their sport was their fun. But remember to have fun outside of athletics. Before or after your season, be a regular student. No app needed here.
Enjoy your time
Decades later, I still cherish the time I was able to compete for and represent my college. I had an unbelievable opportunity and forged friendships and bonds that are still strong today. When you're exhausted from running up and down the field, remember that this time of your life will never happen again. Enjoy it.
Lori Holmes was a University of New Hampshire tennis player from 1978 to 1982, captaining the team her junior and senior years.