Service Credit Union's Aaron Force Named 2022 GEM Scholarship Winner
---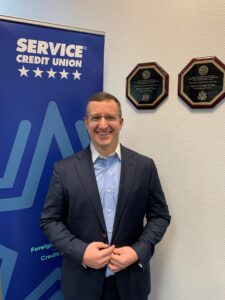 Service Credit Union is excited to announce that Aaron Force, manager of its Grafenwoehr, Germany branch, is among four recipients of the Defense Credit Union Council's (DCUC) 2022 GEM Scholarship.
Each of the GEM recipients will receive a $3,500 scholarship to help them further their credit union education and professional development.
Force plans to use the scholarship to obtain a graduate certificate in Helping Skills, a course that focuses on identifying how those around you learn best. "It's my responsibility to help all those around me achieve everything they want to get done. I feel like the more effective you are at helping those around you, the farther you'll go at the credit union, especially considering that credit unions are all about helping people," says Force.
This year's scholarship saw the most applicants in recent years. Each of the applications were highly competitive and compelling, making it a very difficult decision for the selection committee.
Anthony Hernandez, DCUC president/CEO said, "I am always impressed by the caliber of applications that we receive for this scholarship, and I wish each of our applicants and winners all the best as they continue their credit union education and prepare to be our future industry leaders."
The George E. Myers Scholarship was established in 1996 in honor of COL George E. Myers, USA (Ret.). Since then, DCUC has awarded 65 scholarships totaling over $190,000. These scholarships have provided members with opportunities to pursue educational opportunities at little or no cost to their credit union.
View the full story on DCUC.