Community
Come Join Us at These Upcoming Events
At Service Credit Union, our mission is doing what is right for our members by: improving financial well-being, supporting the communities we serve and creating value and enduring relationships. We partner with local and national organizations that have a meaningful impact, supporting their causes both domestically and overseas.
Grow Nashua
Service CU was proud to sponsor Grow Nashua's Lil' Free Farmstand, which connects local growers with those in need. The program gave out over 7,500 pounds of fresh produce in 2021, serving an average of 80 families each week.
Upcoming Events
Stateside
November, 2021 – Stay Warm with Service CU – Portsmouth & Manchester, NH
Stay Warm is back! Service CU will be packing and distributing 5,000 cinch sacks that contain a hat, gloves, scarf, and a fleece blanket to people in need around the state. These Stay Warm bags will be distributed to various organizations at designated pickup locations in Portsmouth and Manchester.
Wednesday, Nov. 10, 2021 – The Chase Home's Wine and Chocolate Tasting – Portsmouth, NH
The Chase Home is hosting its 7th Annual Wine and Chocolate Tasting at Jimmy's Jazz & Blues Club in Portsmouth, NH. The event runs from 6 p.m. to 9 p.m., with proceeds benefiting The Chase Home's mission to serve at-risk youth and families in crisis.
Friday, Nov. 19, 2021 to Monday, Jan. 3, 2022 – A Quiet Reach and Vision and Visibility – Portsmouth, NH
In collaboration with The Black Heritage Trail of New Hampshire, 3S Artspace is hosting A Quiet Reach, an art exhibition featuring works by renowned artist Daniel Minter. They will also host Vision and Visibility, which will feature pieces from 10 emerging New England-based BIPOC visual artists. Sponsored by Service CU, the exhibitions will be free and open to the public.
Monday, Nov. 22, 2021 – Operation Warmheart – Grand Forks, ND
In partnership with the 1st Sergeant's Association, Service Credit Union will be donating Visa gift cards to the families on Grand Forks Air Base. Service CU will personally distribute the gift cards directly to the families and wish everyone Happy Holidays.
Overseas
Thursday, Nov. 18 – Sunday, Nov. 20, 2021 – USO Thanks for Thanksgiving – Baumholder, Grafenwoehr, Vilseck, KMCC and Stuttgart
Service Credit Union is teaming up with the USO to assist families in the Baumholder, Grafenwoehr, Vilseck, KMCC and Stuttgart military communities during the Thanksgiving season. The credit union will be donating Visa gift cards to some locations, and frozen turkeys to others.
Thursday, Nov. 25, 2021 – USO Thanksgiving – Stuttgart
Service CU is helping sponsor USO Stuttgart's efforts to provide Thanksgiving Dinner for soldiers and their families. Additionally, credit union staff will be volunteering during the dinner to assist the USO in spreading holiday joy.
Tuesday, Nov. 30, 2021 – #GivingTuesday – OS Branches
During the week of November 30, overseas branches will conduct a Random Act of Kindness in their local community. Whether helping someone return the shopping carts to the corral, paying for an active duty's haircut at the barbers or simply showing up for an issue or people we care about, every act of generosity counts.
Recent Events
Thunder Over NH Air Show
Service CU was the presenting sponsor of Patriot Plaza at the first Air Show at Pease Air National Guard Base in over 10 years. The two-day event welcomed more than 80,000 people.
Kathy Horgan Runs the Boston Marathon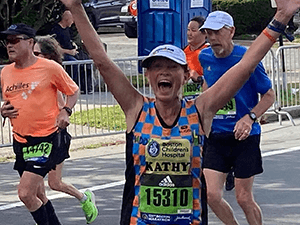 Service CU's own Kathy Horgan completed the Boston Marathon on behalf of CU Kids at Heart, a non-profit organization that raises awareness and funding for scientific research aimed at preventing, treating and curing pediatric neurological diseases. Representing Service CU, Kathy raised more than $25,000 along the way.
U.S. Air Force's 74th Birthday
Service CU honored the Air Force's 74th birthday by offering cake and refreshments at the credit union's Air Force Base locations.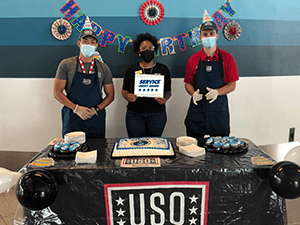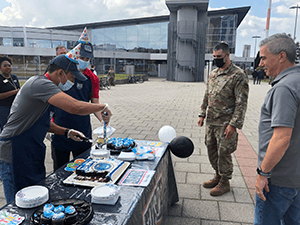 RiverFire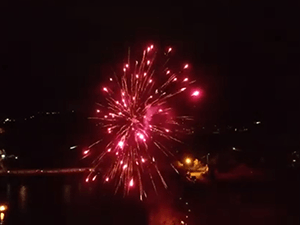 Berlin's annual Fall Festival was back with music, fireworks, food, games, and more. The fun culminated in the traditional lighting of the boom piers and pumpkins on the RiverWalk.
Swim With A Mission
Service CU was the presenting sponsoring of Swim With A Mission (SWAM), which included four events spread over three days and raised more than $1.9 million for veterans. SWAM hosted the Green Beret With A Mission Challenge, Paintball With A Mission, the traditional Swim With A Mission race and the Veterans Festival. Check out the action from the Veterans Festival in the video below!
Organizations We Support