Community
Come Join Us at These Upcoming Events
At Service Credit Union, our mission is doing what is right for our members by: improving financial well-being, supporting the communities we serve and creating value and enduring relationships. We partner with local and national organizations that have a meaningful impact, supporting their causes both domestically and overseas.
Shred Days
With three Shred Days in the books, Service CU has now helped communities in Franklin, Lebanon and Somersworth destroy their sensitive documents for free. Along the way, we've been joined at the events by a live remote broadcast from MIX 94.1 FM in Franklin and the Seacoast Area Mobile Market in Somersworth.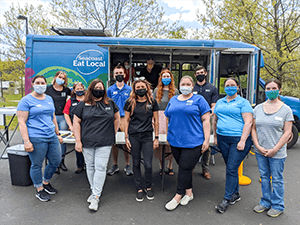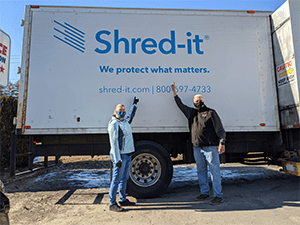 Join us for these upcoming Shred Days:
October 2 – Franklin Branch – 886 Central Street, Franklin, NH – 9:00 a.m. – 1:00 p.m.
Swim With A Mission
Service CU was the presenting sponsoring of Swim With A Mission (SWAM), which included four events spread over three days and raised more than $1.9 million for veterans. SWAM hosted the Green Beret With A Mission Challenge, Paintball With A Mission, the traditional Swim With A Mission race and the Veterans Festival. Check out the action from the Veterans Festival in the video below!
Upcoming Events
Stateside
Saturday, Sept. 11 – Sunday, Sept. 12, 2021 – Thunder Over New Hampshire Air Show – Portsmouth, NH
Service CU is the proud sponsor of Patriots Plaza at the 2021 Thunder Over New Hampshire Air Show at Pease Air National Guard Base. With more than 51 acres of space, Patriot Plaza will host dozens of aircraft displays, hands-on educational activities for kids of all ages, dining, concessions, souvenirs, commercial exhibits, the Kidz Zone Play Area, and a variety of premium seating options. The Thunder Over New Hampshire Air Show promises to be a weekend packed with heart-pounding air performances and family-friendly activities.
Thursday, Sept. 16, 2021 – The Moore Center Garden Party – Manchester, NH
The Moore Center is hosting its 20th Annual Garden Party from 4:00 – 6:30 PM at the Brady Sullivan Tower in Manchester, NH. Service CU is proud to sponsor the event, which raises funds each year to support individuals with developmental disabilities and acquired brain disorders and others with intellectual, developmental and personal challenges. To learn more about the Garden Party, please click here.
Saturday, Sept. 18, 2021 – Air Force Ball – Grand Forks
Service Credit Union will be sponsoring the 2021 Air Force Ball on Grand Forks Air Base. This event fosters a fun and formal atmosphere for Airmen to enjoy dining and socializing with their peers, colleagues and special guests.
Sunday, Sept. 26, 2021 – Ride for Homes – Cape Cod, MA Habitat for Humanity of Cape Cod is hosting its 4th annual Ride for Homes, which helps raise money to build homes for families in need. Service CU joined the event as a Gold Sponsor, supporting Habitat for Humanity's efforts to build six homes in Falmouth in 2021. The event features two bicycle routes, 40 miles to Woods Hole and back or a 12 mile ride along the Cape Cod Canal. To learn more about the Ride for Homes, or to register for the event, please click here.
Wednesday, Sept. 29, 2021 – HAVEN's Waves of Change – Portsmouth, NH
HAVEN is hosting its 6th annual Ending Violence, Changing Lives at the AC Hotel's Envio event center at 6:00 p.m. The event, sponsored in part by Service CU, helps fund shelter for those in emergency situations, 24/7 support services for anyone impacted by violence and helps educate kids and teens through HAVEN's prevention education program.
Overseas
Friday, Sept. 10 – Sunday, Sept. 12, 2021 – Eifel Holiday Bazaar – Spangdahlem
This bazaar hosted by the Saber Community Spouses Club offers shoppers access to over a dozen vendors from all over Europe. The Holiday Bazaar will take place in Hangar 1 and 2 and offer a wide variety of products including cheeses, wines, handmade items, antiques, jewelry and more. Service Credit Union will be onsite to offer our shopping bags. For more information about this event, please click here.
Monday, Sept. 20, 2021 – The U.S. Air Force's 74th Birthday – KMCC, Ramstein, Spangdahlem, Kapaun and Grand Forks
Service Credit Union will be honoring the Air Force's 74th birthday by offering cake and refreshments at our Air Force Base locations on Monday, September 20.
Recent Events
Wright Museum's WASP: The Untold Story
Service CU is the proud sponsored the Wright Museum's "WASP: The Untold Story," an exhibit focusing on Women Airforce Service Pilots (WASP) from 1943 to 1944. The Wright Museum of World War II, located in Wolfeboro, NH, hosted the limited time exhibit from May 1 – June 10.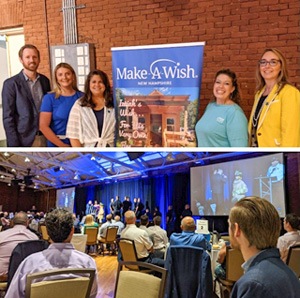 Rafting For Wishes and Breakfast for Wishes
Continuing our longstanding relationship with Make-A-Wish NH, Service CU was the presenting sponsor of Rafting for Wishes and a supporting sponsor of Breakfast for Wishes. Rafting for Wishes, in its 11th year, challenged teams to raft together on Meredith Bay for 24 hours and raised over $250,000. Breakfast for Wishes was held for its 13th year, giving a behind the scenes look at how a wish is fulfilled and featured updates from Make-A-Wish children who reflected back on their wishes.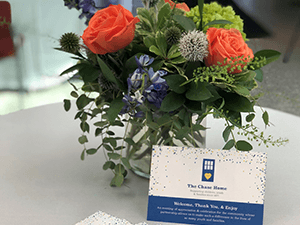 The Chase Home's "We're Better Together" Celebration
Service CU hosted the Chase Home's "We're Better Together" celebration at the corporate headquarters in Portsmouth, NH. The event celebrated the Chase Home's supporters, introduced their mission to community members and unveiled their new look.
Make 12 Hours Count Radiothon
Veterans Count's "Make 12 Hours Count Radiothon" raised over $200,000 on May 19. Service CU was proud to be the phone bank sponsor and also sent volunteers to answer donation calls.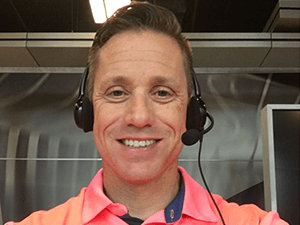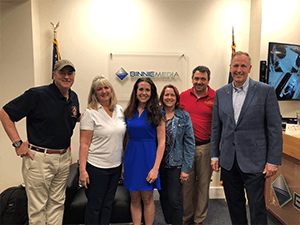 SEE Science Center Sponsorship & Interactive Kit Volunteer Day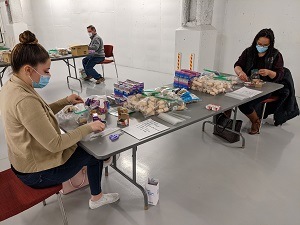 Service CU partnered with the SEE Science Center for $25,000 to be the lead sponsor of their Inclusion Initiative, a special program designed to provide STEM services to traditionally marginalized communities. As part of that program, Service CU employees volunteered to pack interactive science kits for the SEE Science Center at the corporate office on March 11th. A total of 1,000 kits were packed by Service CU employees, to be distributed to community partners such as the YMCA, Boys and Girls Club, Girls Inc. and Title 1 schools.
Organizations We Support