Community
Come Join Us at These Upcoming Events
At Service Credit Union, our mission is doing what is right for our members by: improving financial well-being, supporting the communities we serve and creating value and enduring relationships. We partner with local and national organizations that have a meaningful impact, supporting their causes both domestically and overseas.
Shred Days
Join us for these upcoming Shred Days:
April 17 – Lebanon Branch – 225 Mechanic Street, Lebanon, NH – 9:00 a.m. – 12:00 p.m.
May 15 – Somersworth Branch – 15 Penny Lane, Somersworth, NH – 9:00 a.m. – 1:00 p.m.
June 5 – Corporate Office – 3003 Lafayette Road, Portsmouth, NH – 9:00 a.m. – 1:00 p.m.
October 2 – Franklin Branch – 886 Central Street, Franklin, NH – 9:00 a.m. – 1:00 p.m.
Random Acts of Kindness
Service Credit Union's stateside branches will be performing Acts of Kindness from April 10th to 19th, in support of Credit Union Kids at Heart's campaign to raise awareness and funds for Boston Children's Hospital. Branch employees will be visiting local shops or restaurants to surprise patrons with gift cards, providing lunch to first responders, paying for someone's gas at the gas station and more!
These Acts of Kindness are in support of Credit Union Kids at Heart's virtual event and celebration of health and kindness, the 2021 All-Ability Challenge, to raise funds for Boston Children's Hospital. Learn more or to get involved.
Other Upcoming Events
April 1 – Monday, April 15, 2021 – Credit Union Youth Month Everfi Literacy Bee – Stateside Branches
EVERFI is excited to announce a first-of-its-kind, virtual competition to engage and inspire financial learning for students across the country this Financial Literacy Month. Sponsored by Service CU, the EVERFI Financial Literacy Bee is a nationwide financial literacy initiative for high school students that will run from April 1 – 15th. The Bee is made up of a 4-part course and an essay contest, where students compete to win up to $10,000 in scholarship prizes.
April 9, 2021 – Kids Are Our Business Breakfast – Virtual
HAVEN's 10th Annual Kids Are Our Business Breakfast is happening virtually on April 9th at 8:30 AM, and Service CU is proud to be a sponsor. This event highlights the importance and success of HAVEN's Safe Kids Strong Teens education program, while also aiming to help make up for a deficit in funding for HAVEN's prevention programs. Click here to get your tickets now.
April 9, 2021 – USO Month of the Military Child – Spangdahlem
The USO will be hosting the annual Month of the Military Child event with this year's them being CARnival; as everything will be delivered to families in their cars! Families will drive through carnival games (think ring toss from a car window), receive a dinner of hot dogs and chips, and watch a volunteer get dunked in a dunk tank! Service Credit Union will provide each military child Service CU branded foam rockets to shoot targets from their vehicles as they arrive at the Service CU table.
April 17, 2021 – Pamper Me Gala – Spangdahlem
Pamper Me Gala is an annual event facilitated by the 52d Force Support Squadron Eifel Lanes Bowling Center. Ladies are invited to bring their friends for a fun night of bowling and for a chance to win luxurious prizes! No reservation necessary, and prizes are drawn throughout the night! Service Credit Union will be providing Coach Purses for 1st, 2nd and 3rd place winners.
Recent Events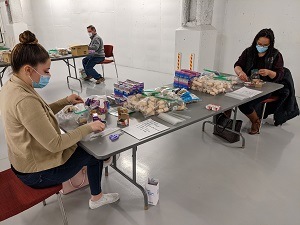 SEE Science Center Sponsorship & Interactive Kit Volunteer Day
Service CU partnered with the SEE Science Center for $25,000 to be the lead sponsor of their Inclusion Initiative, a special program designed to provide STEM services to traditionally marginalized communities. As part of that program, Service CU employees volunteered to pack interactive science kits for the SEE Science Center at the corporate office on March 11th. A total of 1,000 kits were packed by Service CU employees, to be distributed to community partners such as the YMCA, Boys and Girls Club, Girls Inc. and Title 1 schools.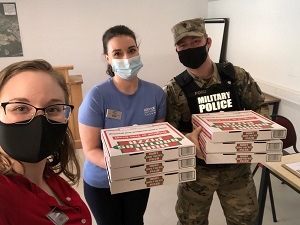 Overseas Random Acts of Kindness
Service CU employees in Germany gave back to their community in celebration of Random Acts of Kindness day, surprising people with small gifts such as pizza, coffee and more!
Take Out Hunger
Service CU partnered with Take Out Hunger to pay local restaurants to cook 500 meals that were distributed to those in need along the Seacoast.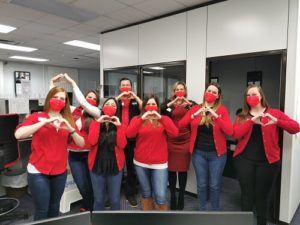 Wear Red Day
The credit union made a $4,000 donation to the American Heart Association (AHA), supporting their fight against heart disease on Wear Red Day. Service CU employees wore red to show their support and shared photos of themselves in our branches, offices and from home—totaling over 55 photos featuring more than 130 employees.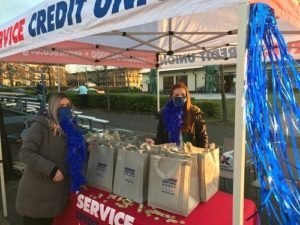 Mardi Gras in Spangdahlem
Club Eifel on Spangdahlem hosted a drive-through Mardi Gras parade. Spectators drove through to see the various stationary floats decorated by on-base organizations. Service CU joined the fun and distributed tote bags and Mardi Gras beads as patrons first began the parade.
Comfort Bags for Quarantined Airmen in Grand Forks
Service CU supported quarantined airmen when they first arrived to their duty station at Grand Forks. Each airmen received a Service CU bag containing games, a cellphone wallet, tools, 2021 calendars, coloring books with crayons, snacks, and information regarding their new duty station.
Organizations We Support