Community
Come Join Us at These Upcoming Events
At Service Credit Union, our mission is doing what is right for our members by: improving financial well-being, supporting the communities we serve and creating value and enduring relationships. We partner with local and national organizations that have a meaningful impact, supporting their causes both domestically and overseas.
Shred Days
With three Shred Days in the books, Service CU has now helped communities in Franklin, Lebanon and Somersworth destroy their sensitive documents for free. Along the way, we've been joined at the events by a live remote broadcast from MIX 94.1 FM in Franklin and the Seacoast Area Mobile Market in Somersworth.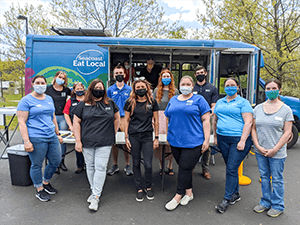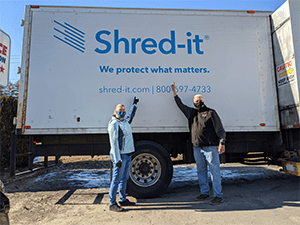 Join us for these upcoming Shred Days:
October 2 – Franklin Branch – 886 Central Street, Franklin, NH – 9:00 a.m. – 1:00 p.m.
Wright Museum's WASP: The Untold Story
Service CU is proudly sponsoring the Wright Museum's "WASP: The Untold Story," an exhibit focusing on the Women Airforce Service Pilots (WASP) from 1943 to 1944. The Wright Museum of World War II, located in Wolfeboro, NH, is hosting the limited time exhibit from May 1 – June 10.

Service CU members and one guest will receive free admission on Saturdays while the exhibit is running. To gain free entry on Saturdays, members will need to show proof of membership with their Service CU debit or credit card. If you do not have one, please email sponsorships@servicecu.org to receive a voucher.
To learn more about the exhibit, please visit wrightmuseum.org.
Children's Museum of NH, Military Appreciation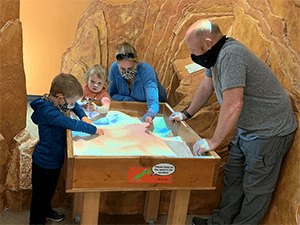 From May 15 through September 5, active and veteran military personnel and their families will receive free admission to the Children's Museum of New Hampshire as part of its Military Appreciation Program, made possible by Service Credit Union. After Labor Day, active and veteran military members and their families will receive a 50% discount on admission.
To learn more about the Children's Museum of New Hampshire, click here.
Upcoming Events
Stateside
Monday, June 21 – Friday, June 25, 2021
SEE Science Center Kick Off to Summer – Manchester, NH: The SEE Science Center is welcoming guests back to normal operating hours, seven days a week, with a kickoff celebration! Service CU is joining the festivities as a Supporting Sponsor to help bring Casey Carle, comic bubbleologist and his award winning one-man show, BubbleMania: Science, Art and Comedy! to SEE. Learn more at see-sciencecenter.org.
Tuesday, June 22, 2021
Wentworth-Douglass Hospital Charity Classic – Dover, NH: Service CU is proud to sponsor the 27th Annual Wentworth-Douglass Charity Classic, to raise funds to support the Women & Children's Center at Wentworth-Douglass Hospital. The golf event takes place at Cochecho Country Club in Dover, NH. Learn more at www.wdhcharityclassic.org.
Friday, June 25, 2021
Lil' Free Farmstand – Nashua, NH: Grow Nashua's Lil' Free Farmstand kicks off its 2021 season! Presented by Service CU, the Lil' Free Farmstand brings fresh, locally grown produce to families to enjoy for free, every Friday through Sunday, all summer long. Learn how you can help as a grower or join as a family in need by visiting grownashua.org.
Saturday, June 26, 2021
Fill The Hall – Portsmouth NH: Service CU is a proud sponsor of the 7th Annual Fill The Hall Food Drive, which aims to fill every seat in Portsmouth Music Hall's Historic Theater with bags of food for Gather and their Meals 4 Kids program. Meals 4 Kids helps fill the gap from subsidized school meals, providing 10 meals a week for over 900 children on the Seacoast for the 11 weeks of summer. To learn more, click here.
Saturday, July 3, 2021
Keene SwampBats Independence Eve – Keene, NH: Service CU is the presenting sponsor of Independence Eve at the Keene SwampBats, which is highlighted by the city-wide fireworks gala. Plus fans at the game will have a chance to catch a SwampBats t-shirt with Service CU's logo.
Saturday, July 10, 2021
Swim With A Mission – Bristol, NH: Service CU is the presenting sponsor of the 5th Annual Swim With A Mission at Newfound Lake, a swim race and festival featuring demos by the Navy SEALS and the Coast Guard, with more than 300 swimmers participating. This marquee event raises money to support organizations that service, support and honor our Veterans. Learn more at swimwithamission.org.
Wednesday, July 14, 2021
Heritage Park's Free Music in the Park – Berlin, NH: The 2021 Free Music in the Park program returns to the Service Credit Union Heritage Park on July 14. The Brothers Grateful Blues Band will perform from 6 PM – 8 PM. Bring the family and enjoy a summer evening of music by the river. For more information, click here.
Friday, July 23 – Saturday, July 24, 2021
Rafting For Wishes – Meredith Bay, NH: A fundraiser that supports Make-A-Wish New Hampshire, Rafting for Wishes is in its 11th year and will be hybrid, taking place in person at Meredith Bay and virtually across the state. Funds raised during this event are used to help Make-A-Wish reach every eligible child in NH to make their wish come true! The organization's goal is to raise $250,000. For more information, please click here.
Overseas
Friday, June 18 – Sunday, June 20, 2021
Summer Bazaar – Pulaski Motor Pool: The bazaars are returning and this month's bazaar theme is summer. The is the bazaar to shop for German goods like food, wine and furniture all located under two large event tents. Service CU will be onsite to distribute information and giveaways.
Saturday, June 19, 2021
5k Glow Walk or Run – Grafenwoehr: Service CU is teaming up with USO Bavaria to offer a 5K run or walk route in the training area that is marked with glow sticks and lighted directional signs. The event provides rotational service members a physical activity and allows our permanent community members the opportunity to participate in a family-friendly event.
Recent Events
Make 12 Hours Count Radiothon
Veterans Count's "Make 12 Hours Count Radiothon" raised over $200,000 on May 19. Service CU was proud to be the phone bank sponsor and also sent volunteers to answer donation calls.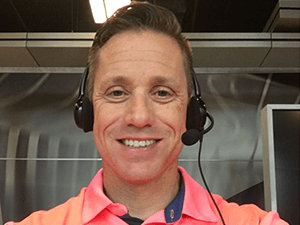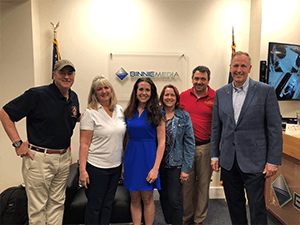 SEE Science Center Sponsorship & Interactive Kit Volunteer Day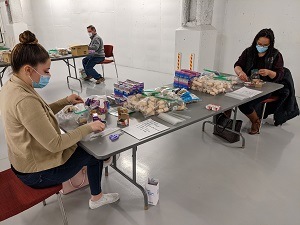 Service CU partnered with the SEE Science Center for $25,000 to be the lead sponsor of their Inclusion Initiative, a special program designed to provide STEM services to traditionally marginalized communities. As part of that program, Service CU employees volunteered to pack interactive science kits for the SEE Science Center at the corporate office on March 11th. A total of 1,000 kits were packed by Service CU employees, to be distributed to community partners such as the YMCA, Boys and Girls Club, Girls Inc. and Title 1 schools.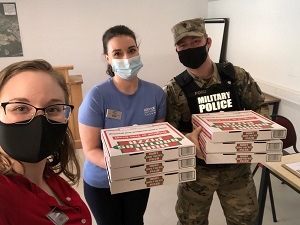 Overseas Random Acts of Kindness
Service CU employees in Germany gave back to their community in celebration of Random Acts of Kindness day, surprising people with small gifts such as pizza, coffee and more!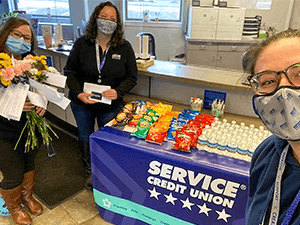 Stateside Random Acts of Kindness
Service CU employees in the U.S. gave back to their community by way of Random Acts of Kindness, in support of Credit Union Kids @ Heart's All Abilities Challenge, surprising people with small gifts such as pizza, coffee and more! The All Abilities Challenge raised money for the Boston Children's Hospital, which was featured on the kindness tickets handed out with the gifts.
Financial Literacy
Service CU engaged with over 50 students with in-class and remote presentations, both stateside and overseas, in May. The credit union also participated in the Kaiserslautern High School Senior Field Day, discussing financial wellness with 180 graduates.
Organizations We Support