Community
Come Join Us at These Upcoming Events
At Service Credit Union, our mission is doing what is right for our members by: improving financial well-being, supporting the communities we serve and creating value and enduring relationships. We partner with local and national organizations that have a meaningful impact, supporting their causes both domestically and overseas.
Children's Museum of NH Military Appreciation Program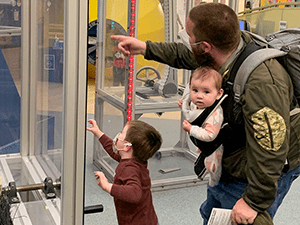 Service CU is proud to be the Military Appreciation Program sponsor for The Children's Museum of New Hampshire. U.S. veterans and active military, and their families, will receive a 50% discount on admission.
Learn more about The Children's Museum of NH.
Free Admission for Service CU members
December 15 and 17
Service CU members and their immediate family can receive free admission to The Children's Museum of New Hampshire on December 15 and 17, 2022.
Members will be required to make a reservation on their website to hold their spot. Choose the day and either morning (9-12) or afternoon (1-4) session. Members should choose 'pay at the door with discount' when making their reservation, and show their debit or credit card at the door as proof of Service CU membership when they arrive to be admitted for free!
Upcoming Events
Stateside
December, 2022 – Project Elf – New Hampshire
Beginning Monday, December 5, we'll be purchasing toys from independently-owned toy stores throughout New Hampshire and donating them to the NH State Police's Toys for Tots effort, which brings toys to children in need throughout our communities. We'll be visiting stores in different NH towns every day through Friday, December 9, then dropping them off with the NH Police on December 12, just in time for the holidays! Keep track of our progress here.
Friday, December 16, 2022 – 11th Annual Spinning Generosity – Portsmouth, NH
LizFit is hosting its 11th Annual Spinning Generosity fundraiser, a week-long event supporting seven Seacoast charities through seven days of indoor cycling and giving. Service CU is proud to support Step Up Parents, who will be the focus of the charity Spin class on December 16. Step Up Parents offers financial assistance to caregivers in New Hampshire who are caring for children whose biological parents struggle with substance use disorder.
Overseas
December, 2022 – Gift Cards for Troops – Stuttgart
In partnership with the USO in Stuttgart, Service CU will be distributing holiday gift cards to single soldiers this holiday season to demonstrate the meaning of supporting the communities we serve. 
Saturday, December 31, 2022 – New Year's Eve Bowling Party – Spangdahlem
Spangdahlem base members can bowl into 2023 at the Eifel Lanes Bowling Center starting at 8:00 p.m. There will be a live DJ, party favors, and prizes to win all night with the new interactive hype-bowling. Service Credit Union is a proud sponsor of this annual family event and will be onsite to distribute giveaways and celebrate the New Year with the community.
Recent Events
Stay Warm Bags
For the third consecutive year, Service CU donated Stay Warm bags that include a blanket, hat, scarf and gloves to non-profit organizations around the state for distribution to their communities. Service CU staff packed 5,000 Stay Warm bags and distributed them at our Corporate Headquarters in Portsmouth and the NH Food Bank in Manchester to 30 New Hampshire non-profits.
Service CU Mac Off
The New Hampshire Food Bank held a Mac Off at Service CU's corporate headquarters in November, bringing together 60 Service CU staff for a competition to pack as much mac and cheese as they could for NH residents in need. The six teams had to measure, weigh and seal all the ingredients, then pack the boxes in a timed race. Service CU donated the food costs and, in total, our staff packed 3,527 bags of mac and cheese, which equals over 21,000 meals.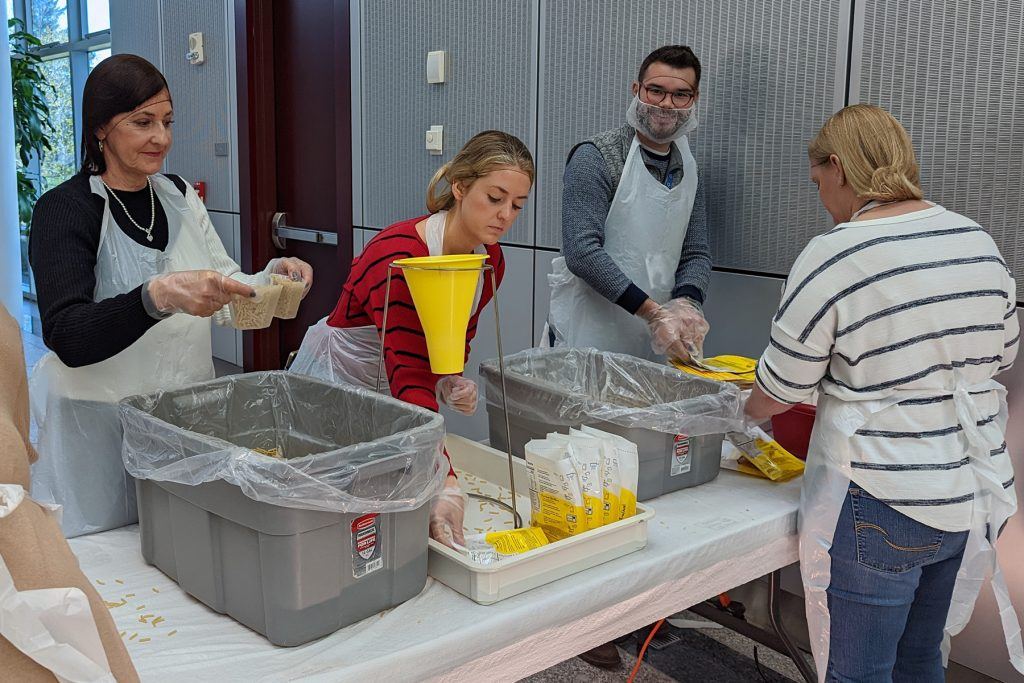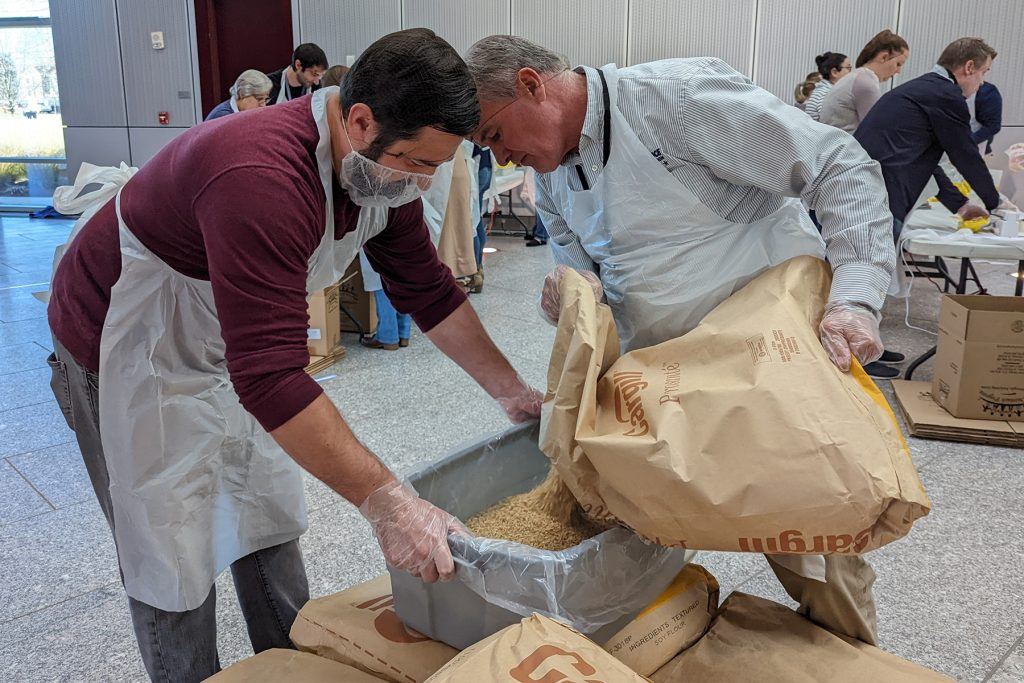 USO Thanks for Thanksgiving
Teaming up with the USO in Baumholder, Stuttgart, Bavaria and Kaiserslautern, Service CU provided soldiers and their families frozen turkeys and Visa gift cards. Service CU volunteers personally distributed the donations.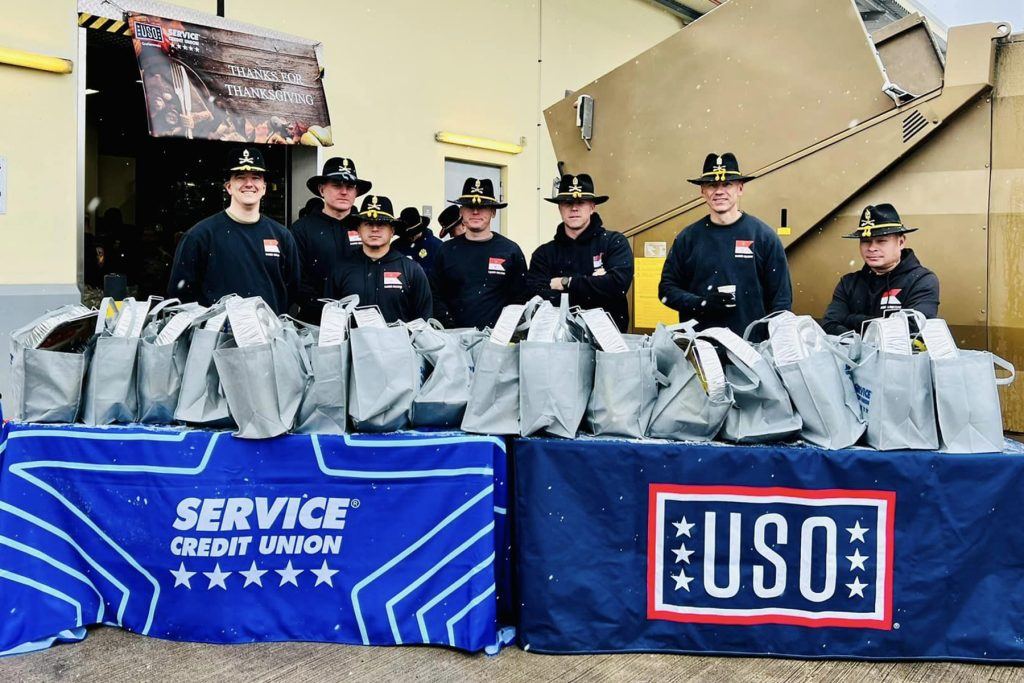 Helping Food Pantries in Need
The food pantries in our local communities are a vital support system for those facing food insecurity and Service CU was eager to help in November. Service CU branches made a $1,000 donation to a local food pantry in their community, totaling $40,000 in donations across New Hampshire, Grand Forks, ND and Falmouth, MA.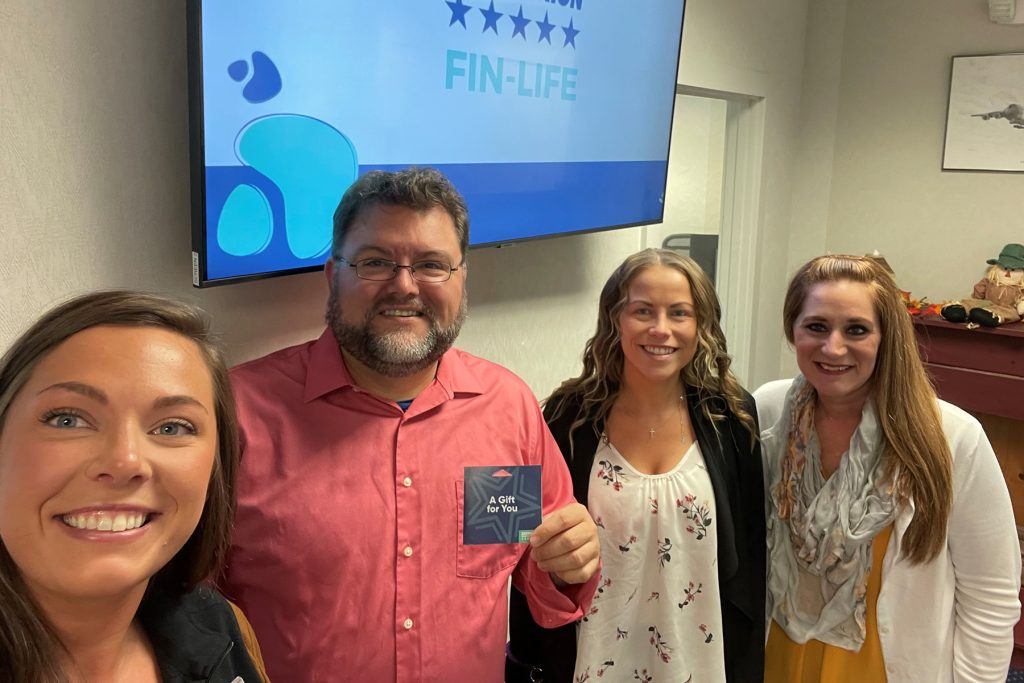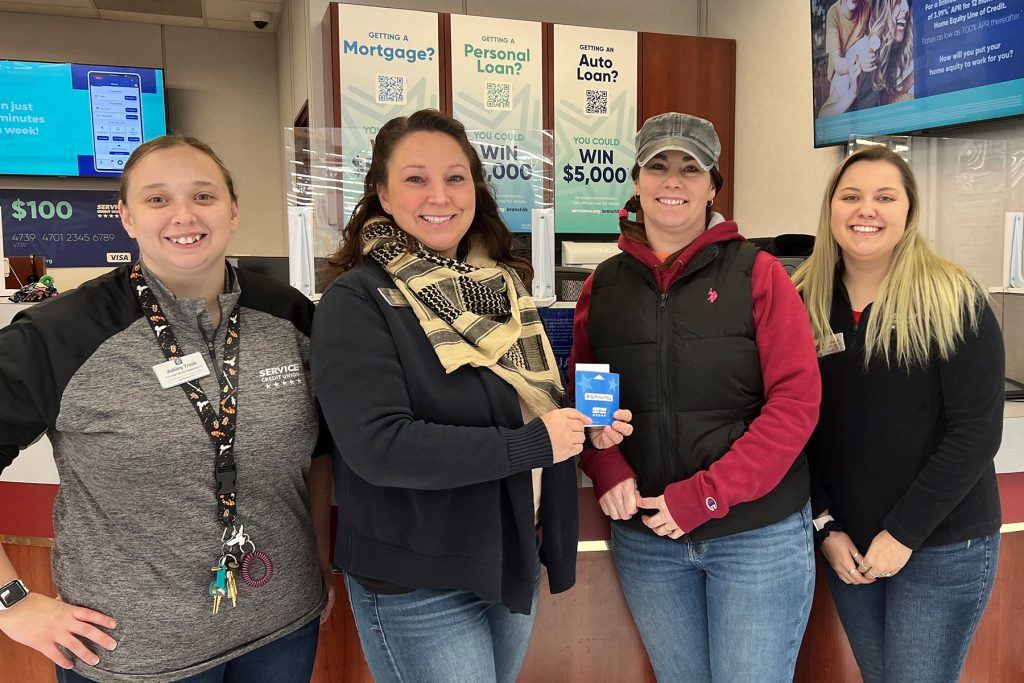 Halloween Fun
To get in the Halloween spirit, branches both stateside and overseas participated in Halloween events in their local communities. From Durham to Franklin in New Hampshire, to Sembach and Vilseck in Germany, Service CU was handing out candy at Trunk or Treats, Pumpkin Festivals and Boo Bashes throughout October.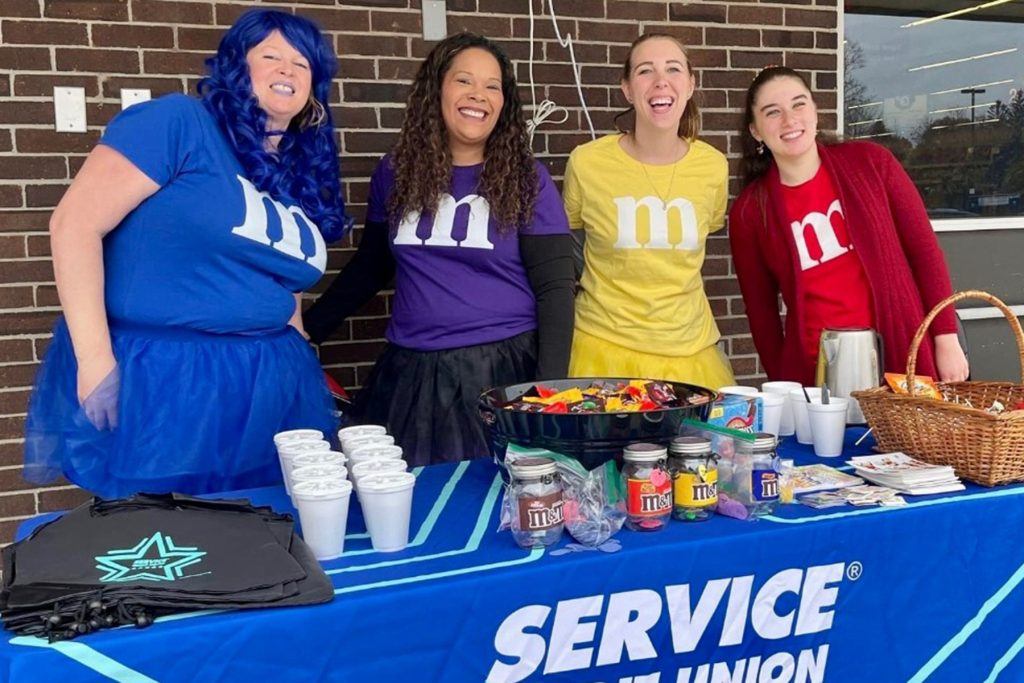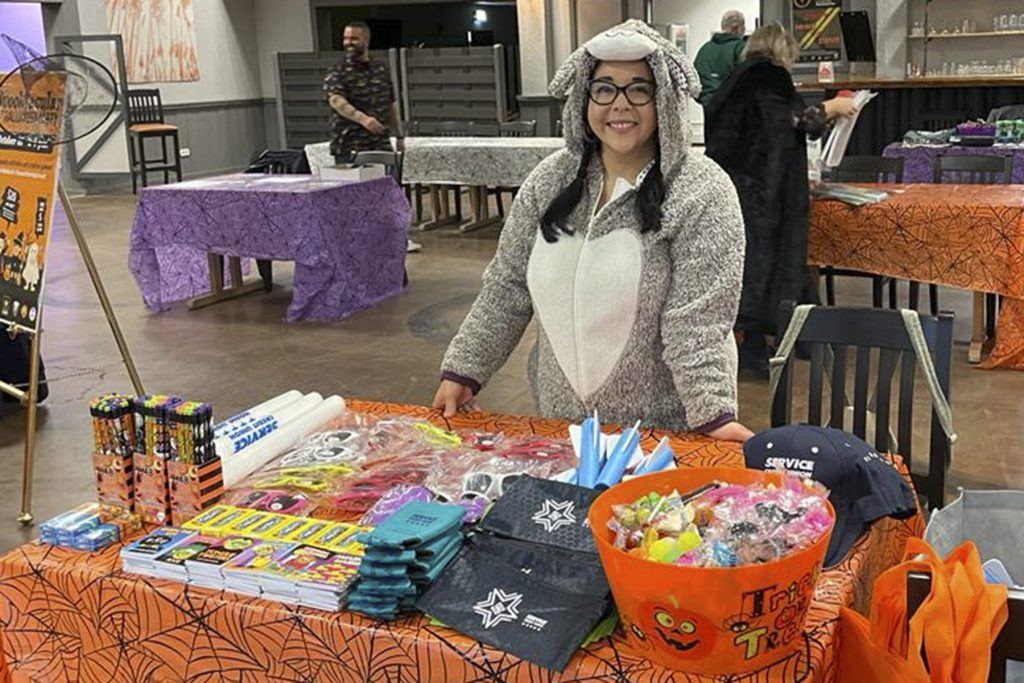 Krempels Center King Challenge
On October 15, Service CU was the presenting sponsor of the Krempels Center King Challenge, a charity bicycle ride in Stratham, NH. The Krempels Center is a Portsmouth-based nonprofit that focuses on improving the lives of people living with a brain injury. What's better than supporting a wonderful nonprofit? Having a team of 10 Service CU staff from both stateside and overseas participate in the event!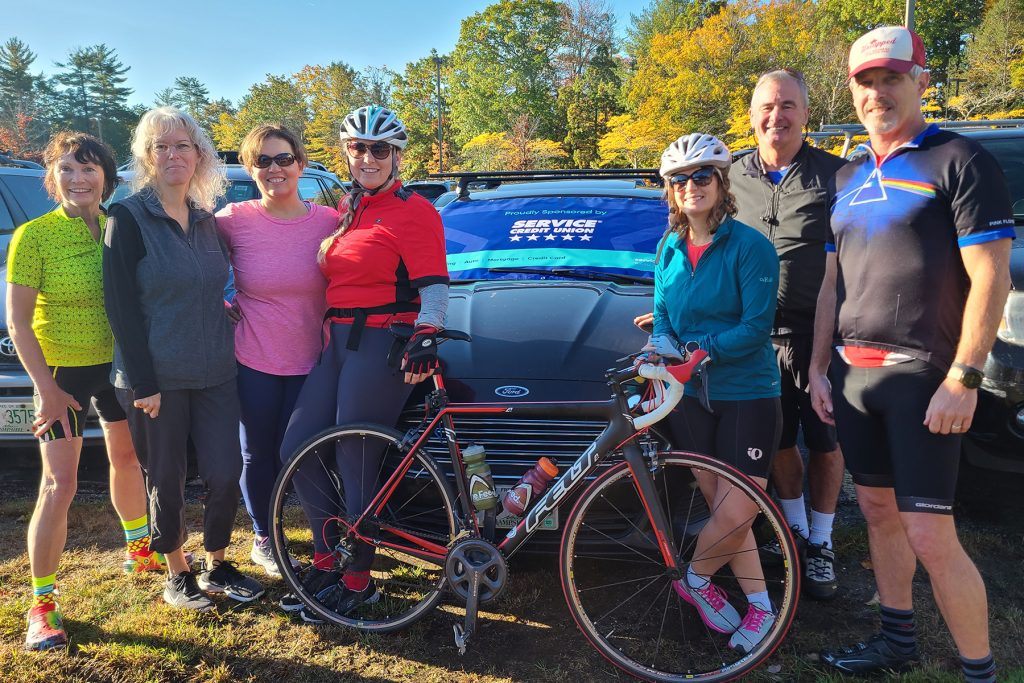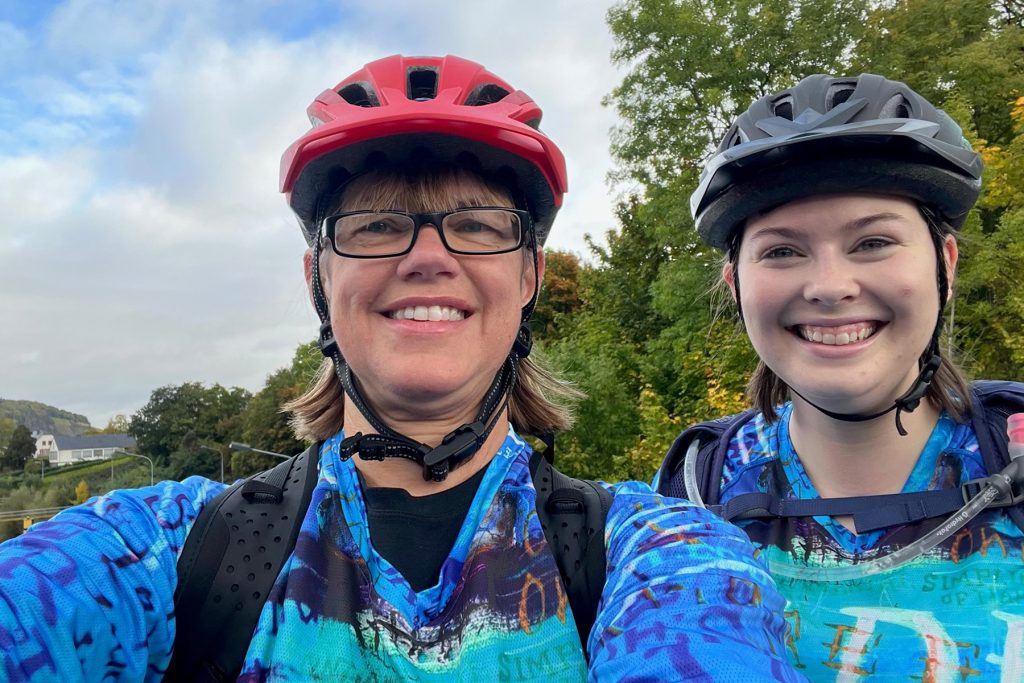 Landstuhl Fisher House
Service CU took part in the Landstuhl Fisher House Fall Clean Up. The Service CU volunteers raked leaves, pulled weeds and beautified the grounds around the Fisher House in time for the autumn season. Then the credit union made a donation to the Fisher House to support their work providing a "home away from home" when urgent medical care is needed at no cost to families of military personnel stationed in Europe.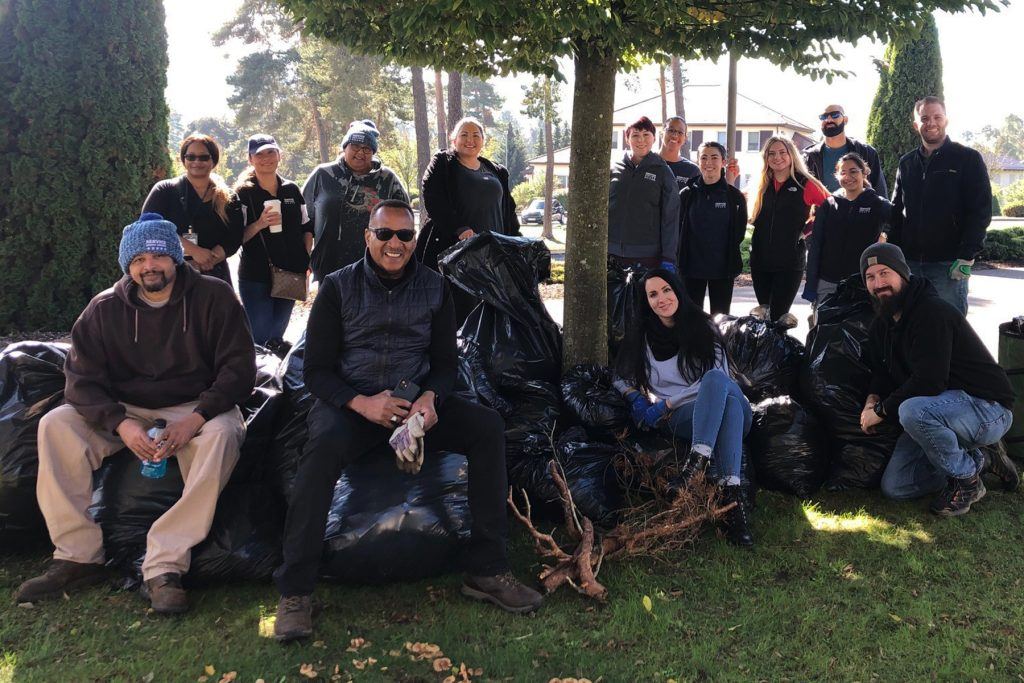 Organizations We Support