Is a Personal Loan Right for You?
---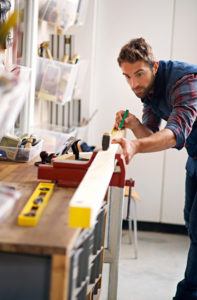 When you think of taking out a loan, it's usually for something specific and defined: an auto loan, a student loan, or a mortgage. But there are all sorts of things that happen in between those major life steps that you may not be financially prepared for. That's when a personal loan might be an ideal option.
Personal loans can be a great way to maintain or build one's credit history while covering the cost of an unexpected expense. Rather than maxing out a credit card that you can't pay off and in turn, potentially negatively impacting your credit score, a personal loan allows the borrower to get access to necessary funds when they need it, with the stability of a set monthly payment and loan term length.
When to take out a personal loan
In fact, a personal loan can actually be used to consolidate credit card debt. For example, if you have three different credit cards to pay off, you can use a personal loan to consolidate them all into one payment with a set date, while enjoying a lower interest rate. At Service Credit Union, we have seen a number of members express gratitude for the ability to handle their finances with one easy payment versus payments to several different companies. Plus, it's quick: Service Credit Union's approval process for most personal loans usually takes about 24 hours, and you can often walk into a branch and leave with the funds in hand.
This can certainly come in handy for an unexpected financial situation, such as necessary repairs to a home after an emergency that may not be covered by insurance, or covering funeral expenses following the sudden death of a loved one. Before you start thinking of the worst-case scenario, note that many personal loans have happy endings attached. In one recent case here, a family used a personal loan to finally get the in-ground pool they had always wanted. The affordable rate allowed them to fulfill a wish while paying it off on a timeline that worked for them. A personal loan may often be used to pay for a vacation or a wedding. That's the beauty of personal loans: you can use them for a plethora of life situations.
Ready to take out a personal loan? A few things to keep in mind:
Be prepared with a reason
While, as mentioned above, you can take out a personal loan for a variety of reasons, you will have to list that reason with your personal loan officer. Make sure that the reason is legitimate and makes sense for this stage of your life.
Have a payment plan
Personal loans are there to fall back on when you don't have the money you need when you need it, but if you don't have a steady source of income to pay off that loan, you may not be approved.
Assess your overall financial situation
In addition to knowing how and when you'll pay off the loan, loan officers will assess your debt to income ratio, other outstanding loans, and your capacity to repay. It is possible to be approved for a personal loan while having other loans, as long as you can show the ability to pay.
Consider insurance
Because there is always a possibility for an unexpected accident or event to happen which could impact your ability to repay your personal loan, most lenders will offer insurance, including life and/or disability insurance specific to loans. Consider your own employment or personal situation, and determine whether insurance is right for you.
Service Credit Union is proud to offer competitive personal loans. Check out our current rates.
This article is to be used for general informational purposes and should not be considered individual financial advice.