The Best Financial Wellness Tips: As Told by You
---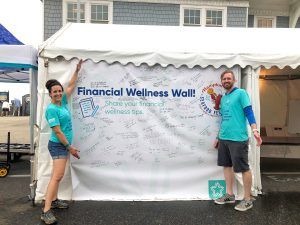 Service Credit Union was the presenting sponsor of the recent Hampton Beach Seafood Festival, which brought together over 50 of the New Hampshire Seacoast's top restaurants with local craft vendors, culinary demonstrations, on-stage entertainment and more. Hundreds of thousands of people attended, and we had the pleasure of meeting many of them at our booth, which featured swag, a live statue, giant games, a lot of enthusiasm, and a ton of financial wellness.
We asked the seafood lovers of the Seacoast and beyond what their best financial wellness tips are on our "Financial Wellness Wall." Here are some of the highlights
Have an emergency fund
Save, save, save!
Save some of each paycheck
Save as much as you can! Be debt free!
Start saving now for your retirement and use a financial advisor
The most common theme we saw on our wall were messages about savings, and we certainly agree with the importance of that! The realities of today can be overwhelming, making it hard to save for tomorrow, but having an emergency savings is crucial to building your financial security and improving your overall wellness. Being financially well plays a role in your overall health and wellness and can lead to better outcomes overall for you in the future. Saving a little bit every month, setting up automatic transfers to your savings account, and opening up a high yield savings account are just a few ways to start building your emergency savings.
A few of the tips had to do with credit cards and debt, including
Pay credit cards off in full each month
Don't sign up for every store credit card to save 10%. Each time you apply, your credit score takes a hit
There are benefits to having a credit card such as helping to establish a credit history, rewards, and even convenience, but it is important to find the credit card that is right for you, based on your personal needs.
If you're a student or just starting out with credit cards, a secured credit card is a great way to begin establishing credit. Secured credit cards are just like normal credit cards, but are backed by collateral, such as money in your savings account. Additionally, secured credit cards may offer a lower annual percentage rate (APR), so you can save more.
Here's what you had to say about saving for retirement
Find a company that offers a pension and/or a matching 401K and take full advantage of the company match! "If you fail to plan, you plan to fail!"
401K all the way!
Take advantage of a 401K
When job searching, be sure to look at more than just the pay for any given position. Understanding the additional benefits that come with a new role is beneficial to your overall financial well-being. For example, Service CU offers a 401k with 8% company contribution after one year of employment and offers training and career growth opportunities as well.
Teaching kids to save is important, too, our visitors reminded us
Save money young
Save young while you can
Make smart choices
Learn want vs. need
Quit spending all your money!
Don't spend what you don't have
It is never too early to start money conversations with kids! Make learning fun and engaging with programs like the Money Mammals!
Need a little extra help?
Get a financial advisor
If you can't do it yourself, get a good financial advisor you trust
Seek a financial professional, you don't know what you may be missing
You can't be expected to know everything, which is why it is important to bank with a financial institution that not only provides full service banking, but also the support and resources you need. Reaching your financial goals requires knowledge and skills. Without an understanding of financial topics and terms, it can be challenging to make informed decisions about how best to reach your goals. Service CU Fin-Life is a free app that coaches you through every theme of financial wellness, from creating to sticking to a budget, to planning for the future. No investor-speak, monthly fees, or in-person meetings needed. Just your phone and 3 minutes a week.
A few other words of advice
Budget every paycheck
Pay your taxes when they're due
Pay extra towards your mortgage each month
Don't stand still. Always be moving! Consolidate debt!
Wherever you are in your financial journey, you are never alone if you take advantage of the resources that are available to you. We hope to see you at our next event.
This information is not intended to be a substitute for specific individualized investment, tax or financial advice. We suggest that you discuss your specific situation with a qualified tax or financial advisor.