Got Checks? Why Using Mobile Check Deposit Is the Way to Go
---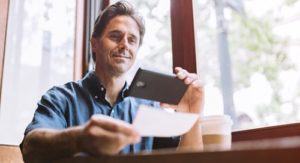 If you're like most Americans, you already rely on your mobile phone for news, entertainment and communication. But is a safer and easier banking experience on that list?
While many of us have gotten used to the idea of using mobile or online banking to quickly check on our accounts, some "going to the branch" habits are hard to kick, including depositing checks. After all, you may think, I want that access to those funds in my account immediately. Or, maybe you have a rather large check and don't feel secure depositing it using your phone.
With a mobile check deposit from Service Credit Union, you don't have to worry about any of those things. Available securely in the Service CU mobile app on iOS or Android, mobile check deposit allows you to save time by depositing your checks remotely, no matter where you are or what time of day it is.
To get started with mobile check deposit, just follow the below steps:
If you haven't done so already, sign up for online banking and download the Service CU mobile app.
Open the app and find the "Check Deposit" option at the bottom of your screen.
Indorse the back of your check with your signature and either check the box stating "mobile deposit only," or write it in.
Follow the app's instructions to take a photo of both sides of the check. Don't worry, your phone will not store images of the check.
Check out the video below for a quick walkthrough on mobile check deposit. It's fast, easy, safe, and secure!
*Must be 18 years old to deposit checks remotely. Members between the ages of 13 and 17 years old must have a parent/legal guardian accept the terms and conditions. Standard funds availability policy and other restrictions apply. Please see the terms of use agreement for additional details. Checks deposited in real-time are subject to Service Credit Union discretion.