Nine Ways to Help the Community Amid COVID-19
---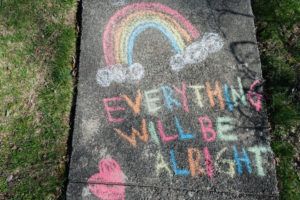 For most of us, having to quarantine for an unknown amount of time is unfamiliar territory, and it is important to remember that we are all in this together. As we all continue trying to navigate a change in routine, work environment, schooling, and much more, there can be feelings of unease and concern.
Having grown up in New Hampshire, I will say how proud I am to live in this state. Without hesitation, new plans and processes have been implemented, and people are doing their best to adjust in a way that is best for themselves, their family, and their communities by honoring social distancing and staying home if they can. People across the state are finding their own ways to help each other. Individuals are looking inside themselves to see what skills they have that can be used through these trying times. Some are making hand sanitizer at home or sewing masks for local hospitals, while others are grocery shopping for neighbors or offering free food to those in need. Are you wondering what you can do to help out?
Here are some ways you can support your community:
Make a donation. There are various nonprofits that are in need of financial support right now, and every dollar counts! If you are financially able, make a monetary donation. Not sure where to donate? Consider a donation to the Service CU Impact Foundation, where 100% of your donations will go to aiding food, healthcare, military, and other nonprofit organizations that are in need of assistance.
Support locally-owned restaurants and businesses. Reach out to your favorite local small business and buy a gift card to use later. This not only gives you something to look forward to, but it also helps businesses get through these challenging times. Many restaurants have worked hard to ensure they are abiding by social distancing and food safety requirements, so order takeout or delivery to show your support. Don't forget to leave a tip!
Reach out to someone in the recovery community. Community support, such as group meetings, can be an important part of staying sober for someone in recovery. Due to gatherings coming to a halt, the recovery community is in need of our support. Reach out to someone who may be struggling just to remind him or her that they are not alone.
Collaborate with neighbors, and check on the residents in your community who are most vulnerable. Reach out to your neighbors and see if you can help each other with trips to the grocery store or pharmacy. Pick up the phone and check in on neighbors who are high risk or those who live alone.
Donate blood. Thousands of blood drives have been canceled due to the threat of this pandemic, but the need for blood and convalescent plasma has increased significantly. To support social distancing, the Red Cross has made appointments required, but safety is their priority. To find a blood drive near you, visit the American Red Cross website.
Purchase an annual membership. Take a look online at the art venues, museums, and theaters that are near you, and consider purchasing an annual membership to enjoy later! The Portsmouth Music Hall is offering Membership May, which you can learn more about here. The Wright Museum in Wolfeboro, NH also offers memberships. They will soon be featuring a new exhibit, Vietnam: The Real War Photographs from the Associated Press, sponsored by Service CU.
Participate. Search for and participate in virtual events! With so many events being canceled, many groups have switched to a virtual platform. Do you like to swim, kayak, or paddleboard? Swim with a Mission has switched to a virtual competition, and registration is free! Is walking more your speed? Check out virtual walks such as The American Heart Association's Virtual Heart Walk, or the Brain Injury Association's Virtual Walk by the Sea event.
Plant poppy seeds. Memorial Day, falling on Monday, May 25, is a federal holiday that honors those who have given the ultimate sacrifice. The Poppy  is widely recognized as the symbol of Memorial Day, and its meaning is one of both remembrance and hope. If you live in New Hampshire, make sure to pick up a packet of poppies to plant. Planting flowers helps the community by spreading beauty and joy, and is a good reason to get outside.
Take care of yourself– By following state guidelines, you can help stop the spread, but do not forget to continue to spread joy, kindness, and patience.
Ultimately, we have all been affected by this in one way or another, but it is a good opportunity for us to come together and do what we can to support each other. Do what you can to stay positive and give back if you can.
Stay well everyone, we will get through this together.