We are aware of a text scam affecting members. As a reminder, please do not click on any links or respond to texts from an unknown number. Rest assured that we have not been part of a data breach and your information remains secure with us.
In this scam, members are receiving text alerts purporting they are from Service CU, stating their accounts have been locked due to a suspicious charge. They are provided a link to a website posing as the Service CU website in order to 'unblock' the account. These texts do not originate from Service CU nor is the provided link associated with us. Please see an example of the text below.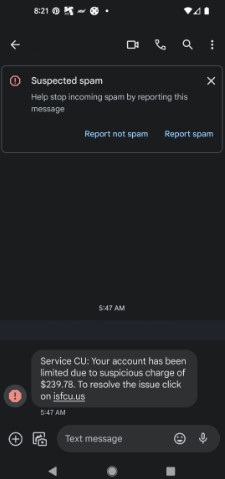 While we may send you texts regarding suspicious activity on your debit or credit card, we will not send you to any websites to confirm the activity. If you receive a text from a number you do not recognize, please do not click on any links in the text. You may also navigate to our website directly at servicecu.org. To confirm whether a message truly came from us, please call us directly at 800.936.7730 (U.S.) or 00800.4728.2000 (Int'l).