Service Credit Union Announces Three-Year Partnership With Swim With a Mission
---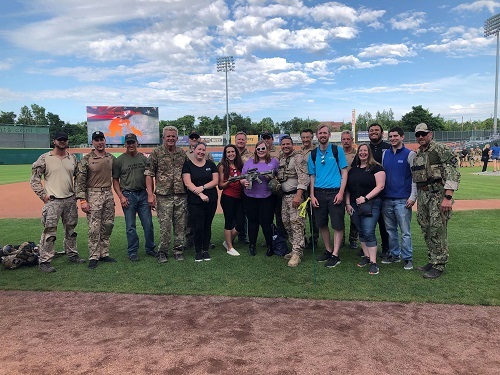 Service Credit Union is excited to announce its continued support of the veteran community through a three-year partnership with Swim With a Mission (SWAM), a nonprofit organization that organizes fundraising events to support veteran service organizations.
SWAM was founded in 2017 by Phil and Julie Taub to give back to organizations that support and enrich the lives of veterans, including wellness and mental health programs, therapeutic programs, housing programs and employment programs. SWAM's mission began by combining the Taubs' passion for swimming and lake living with their appreciation for veterans, and their inaugural event of an open water swim across Newfound Lake in Bristol, New Hampshire was born. Today, in addition to its flagship Swim With a Mission race, which features U.S. Navy SEALs as participants in addition to civilians, SWAM also organizes a Paintball With a Mission event, a Celebration of Heroes and Green Beret With a Mission event.
Service Credit Union will be SWAM's leading sponsor for 2022-2025, known as the Special Forces Presenting Sponsor.
"SWAM is delighted that Service Credit Union has agreed to be our lead sponsor for the next three years," said SWAM co-founder Phil Taub. "We are very happy to partner with Service CU to strengthen our veteran service community. Service Credit Union has a long history of commitment to our Veterans which makes us a great team to help our veterans!"
Service Credit Union has partnered with SWAM since 2019 and was the presenting sponsor of Swim With a Mission in 2021. "With this expanded partnership, our goal is to help strengthen and support the veteran community more than ever. SWAM is an incredible organization truly making a meaningful difference in the lives of veterans and their families, whether it's helping build shelters or transitional homes, or providing therapy dogs to veterans with PTSD. The work that they do is so important, and we couldn't ask for a better partner to help us in helping our veteran community," said David Araujo, President-CEO of Service Credit Union.