Service Credit Union Opens Full-Service Branch on Kapaun
---
Service Credit Union has opened a full-service branch at Kapaun Air Station.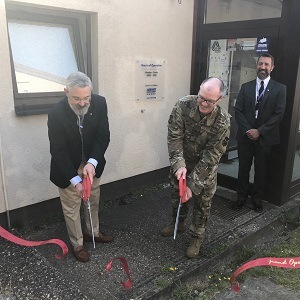 Prior to the opening of the branch on Monday, July 15, Service Credit Union's Kapaun location was a self-service kiosk and ATM location. The location was transformed and renovated into a dedicated branch to better serve members of the Kaiserslautern Military Community. It will be open Monday through Friday, 9 a.m. to 5 p.m. CET and is located at Building 2762, 67661 in Kaiserslautern. This location also marks Service Credit Union's return to the Vogelweh area after a former branch was closed due to the construction of a new high school in the region.
"At Service Credit Union, we are dedicated to providing the best possible service to our communities, including the many military members and families we serve across Germany and around the world. We're excited to once again be able to offer a personal touch to the residents of Kapaun and Vogelweh, and I am confident that Anne Marie Mast is the perfect person to lead the charge," said Philip von Streicher, Vice President of Overseas Operations at Service Credit Union.
Anne Marie Mast has been promoted to head the branch as manager. She was most recently the branch manager of the credit union's Baumholder branch office before accepting this new role. Mast has been with Service Credit Union since October 2008, with extensive branch and contact center experience, as well as experience as an overseas education instructor.  She is a certified CUNA (Credit Union National Association) instructor with the Creating Member Loyalty program and became manager of Service Credit Union Baumholder in 2016.
To celebrate the new location, Service Credit Union will host a grand opening and ribbon-cutting celebration at the Kapaun branch on Friday, July 26 at 9:00 a.m. All are welcome to join us for cake and refreshments. New and existing members are also encouraged to take part in a number of limited-time promotions tied to the grand opening.