10 Tips to Sell Your Home Faster
---
Thinking of selling your home? Even in a seller's market, it's wise to take a few extra steps to help sell your home at top dollar. Here are our top 10 tips for getting your home ready to show, brought to you by our friends at HomeAdvantage.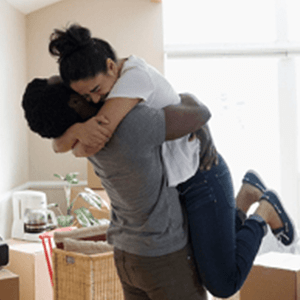 1. Beef up the curb appeal
How is your landscaping? How about the exterior paint? Are your windows shiny and clean? Does your house feel warm and inviting from the street? Cleaning up your exterior, whether it's trimming the shrubs or simply pressure washing the walls, is critical to making a great first impression on buyers.
2. Create a grand entrance
In addition to the outside of your home, the first steps into your home are also very important. Is your entry or foyer inviting? Is it free of clutter? Is it well lit? Does it make a statement about the rest of your home? Clean up, pare down and add some flowers. All of these steps will help you say "Welcome!" to homebuyers.
3. Conquer clutter
No one wants to step over personal belongings or see your collection of knickknacks when they tour a home. Plus, extra clutter on the floor, tables and shelves can make your rooms appear smaller and overused. Give potential buyers a clean slate so they can picture their own family in your home.
4. Evaluate your furniture
Worn, dirty furniture can give the impression that your house is tattered and in need of repairs. Consider having upholstered pieces steam cleaned. Also, is your furniture arranged against the walls? Sometimes, if space allows, floating your furniture in the middle of a room, away from the wall, can create the illusion of more space.
5. Let in the light
Natural light is on the top of the priority list for many buyers. Don't leave them in the dark with window treatments that eliminate what could be one of your home's brightest features! Have a room without windows? Consider placing more lamps around the room and have them lit while showing your home.
6. Add some fresh paint
A fresh coat of paint is always a good choice and money well spent. If you don't have the budget to paint your entire house, consider buying a gallon or two to freshen up the trim, shutters and doors. And remember, neutral colors are key!
7. Upgrade the mailbox
If your mailbox looks out of place in your neighborhood, or is old and weathered, consider upgrading. Mailboxes might seem trivial, but they are certainly part of the overall experience when buyers drive up. A mailbox is like the first handshake—it can begin to define the character of your home.
8. Replace old house numbers
Like your mailbox, this little detail can set the tone of what's to come inside. Consider replacing old numbers with new ones, or, if your home has none, add some.
9. Update light fixtures
Both interior and exterior light fixtures that are dated may deter buyers as they make the home and decor also feel outdated. . Simple lighting upgrades can make your home feel newer and, if chosen wisely, won't cost a fortune.
10. Bring in flowers and plants
Depending on the season, consider adding some potted plants pots in a variety of staggering sizes and styles—lush green plants and annual flowers. These add a fresh pop of color and texture to your entry and life to your home.
Interested in having a market analysis done on your home? Request a referral to a real estate agent through our free HomeAdvantage® program. These agents are top professionals in their field, and can advise you on how to get the most return on your investment. Plus, you can earn cash rewards when you buy or sell!*
*HomeAdvantage is available to you through your membership with Service Credit Union. Cash Rewards are available to members who register to use HomeAdvantage and who use a real estate agent in the HomeAdvantage network to buy or sell their home. Using Service Credit Union for a mortgage is not a requirement to earn Cash Rewards. Cash Rewards amounts are dependent on the commissions paid to the agent. Cash rewards earned are paid out directly by HomeAdvantage after closing. Service Credit Union has no direct involvement in this process. Cash Rewards are void where prohibited by law or the lender. Please consult with your credit union to get details that may affect you.