Savings Tips for Buying Your First Home
---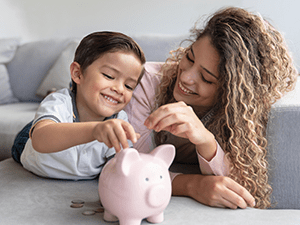 Buying your first home is an exciting prospect. For many of us, homeownership is one of the most important steps towards financial independence. However, buying a home is a major financial commitment from start to finish, which means planning and saving are an absolute must!
To get you started, here are some tips to get your savings secured for that down payment so you can get your foot in the door of your own home.
Initial Budgeting
If you are considering home ownership, you may be asking yourself: "How much do I need for a down payment or deposit?" While a down payment could eliminate some extra monthly costs, such as private mortgage insurance, remember, your lender may have options and discussing your situation with your lender is vital to ensure you are choosing the lending product that is right for your particular needs. The first important step in deciding how much of a down payment you will be able to make is to set realistic expectations regarding your budget and how much you can afford to put down. Talking to a lending specialist can help you set this realistic expectation, so you know where to invest your time and money.
Create a Forward-Thinking Budget
Next, you will want to set up a budget, either by yourself or with your partner. If you are currently paying rent, think about how much more you could comfortably afford to pay each month. A general rule is to avoid paying more than one-third of your monthly income on your rent or mortgage payments.
Determine Your Down Payment Goal
The down payment on your home will vary by mortgage lender and product. Mathematically, a larger down payment can mean smaller monthly payments with less interest and lower insurance costs. Historically, saving 20% for your down payment was a best practice, but in today's market of quickly changing property values and rates, this is a moving target. Private Mortgage Insurance (PMI) may expedite your home buying journey while keeping home ownership affordable.
Start Saving
Step 2 is to consider what changes you can make to your cash flow that will improve your financial position. Lenders will consider your credit history and/or credit score when you apply, so it's important to have your finances in order and any less-than-favorable incidents accounted for. Taking these steps has helped individuals get better interest rates, as they made efforts to reduce their risk.
Plan Out Your Savings
Planning is an essential step when saving for your home. If you start right away, you can quickly adjust your spending to fit your budget and save the remaining portion. Doing this, you can see exactly how long you need to save. For some people, the timeline may be longer than they expected, but, knowing this timeline will prove whether your target was realistic, and allow you to watch your balance steadily grow.
Control Your Flow
You don't have to remove all the fun things in life when you want to save. Try making a general savings of, say, 15% across all your expenses. This may mean reducing your monthly grocery bills or cutting back on dining expenses. Even making small changes can add up quickly. Keeping track of your spending for just one month can be an eye-opening experience and will help you identify where you can make adjustments to save.
Reduce Debts
Paying down your debts is a wonderful way to set yourself up for success. Whether it is refinancing your car loan to reduce the payment or using some of your savings to make meaningful payments on credit cards, there are many ways you can pay down debts to get yourself financially fit before buying a home.
Open a Dedicated Account
Pro-tip: Open a share account dedicated to saving for your home. You can set a monthly automatic transfer to pay your account like you are paying a bill, but this will be for your future home. Choosing a high yield savings or Money Market account will help build these savings faster as well!
Approaching Your Goal
It may feel daunting at times, but stick to your plan and you will succeed. Home ownership is worth the work it takes, don't give up when it gets hard and remember when you do stray from your budget plan, to try to get yourself back on track as soon as possible. Your future homeowner self will thank you.
Plan for Bumps in the Road
Life sometimes takes unexpected turns, and you may need to pivot. Job loss, health issues and other unexpected events happen. While this can be a major setback for your home ownership plans, at least you have some money saved to help you through the tough times. You will get back to it, and once you are back on your feet, you can get back to the plan!
Set Aside Bonuses and Unexpected Cash
You might receive some extra money, lucky you! While it's tempting to spend it all to treat yourself, an alternative is to think about how much quicker you could reach your goal if you put some or all of it into a savings account. While saving for a home, you don't have to cancel all your fun. It's important to still enjoy your life, but if you can divide your bonus money into a fun category and a savings category, you'll be "treating yourself" to a new home much faster.
Factor in Potential Cash Back Bonus
When you use our free HomeAdvantage® program, you can earn an average of $1500* cash back after closing! To get more information on HomeAdvantage®, the agent network and answers to your mortgage questions learn more from one of our Real Estate Lending Specialists.
Roll out the Welcome Mat
Saving for a home can be a process. It requires a plan and dedication to not lose sight of the goal. There are professionals available to help you along the way. Check out our learning resources to learn more on how to save, budget and be financially well. Before you know it, we'll be able to welcome you to your new home, too.
*HomeAdvantage® is available to you through your membership with Service Credit Union. Cash Rewards are available to members who register to use HomeAdvantage® and who use a real estate agent in the HomeAdvantage® network to buy or sell their home. Using Service Credit Union for a mortgage is not a requirement to earn Cash Rewards. Cash Rewards amounts are dependent on the commissions paid to the agent. Cash rewards earned are paid out directly by HomeAdvantage® after closing. Service Credit Union has no direct involvement in this process. Cash Rewards are void where prohibited by law or the lender. Please consult with your credit union to get details that may affect you.