How to Avoid Scams Around the Coronavirus
---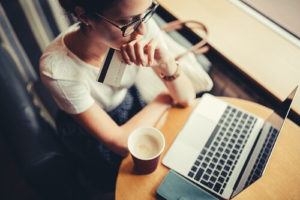 As we all spend more time at home, and inevitably, online and on social media, during the coronavirus pandemic, it's just as important as ever to be on the lookout for scams and fraudulent behavior.
While it's our hope that most people are acting toward the greater good, there are always a few people who look to take advantage of others during a crisis. There's no reason to panic, but we do ask you to be alert for any emails, websites, or apps that seem suspicious.
You may notice a number of emails and websites promising vital information about keeping people safe from the coronavirus; unfortunately, many of these are scams that are pushing malware, ransomware and misinformation. They may also be attempting to steal passwords and personal information.
One of the most recent coronavirus hoaxes is an Android App called COVID19 Tracker App. This app claims it can provide access to a map that shows real-time virus-tracking as well as important information such as statistics and heat maps when in reality, the app is infected with ransomware.
We also encourage you to be on the lookout for new phishing scams. An example of this is an email that went out to college students posing as official communication from their university, offering bogus updates about closures and other coronavirus-related news. Another variation of this type of email scam will appear to come from employers and target employees who are working from home, providing fake links to vendor login screens that will capture user's credentials.
Coupon scams are also rampant during times of crisis. For example, a recent offer promising a $100 gift card toward Starbucks turned out to be fraudulent. If it seems too good to be true, it probably is.
Most importantly, please be careful of any website or individuals advertising sales of medical supplies, as they are most likely online shopping scams. Once your banking information is entered, the products you ordered would not only not arrive, but your account information would be compromised.
Snopes.com recently reported a scam in which fraudsters impersonated Red Cross volunteers in an attempt to victimize worried individuals. These individuals claimed that they were working for Red Cross and were offering COVID-19 home tests door-to-door. They were then able to charge their victims for a service that they never administered.
Beyond this, hundreds of website domains have recently popped up promising home testing for the coronavirus. As of now, there are no official home tests for the virus.
To keep yourself and your information safe, always be skeptical of emails and websites that purport to provide information or goods related to the ongoing pandemic. If you are working remotely, always connect to a secured wireless network, and ensure that your home network passwords are long and cannot be easily guessed.
Good luck, and stay safe!