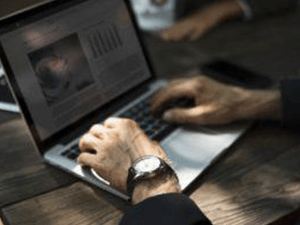 As the holiday shopping season begins, being wary of online shopping sales that may be too good to be true can save you time, energy and money.
According to Vogue Business, US retail sales are projected to rise by 7 to 9 percent this holiday season. It is estimated that consumers will spend between $1.28 and 1.3 trillion dollars between November and January as e-commerce sales grow by 11 to 15 percent.
Although sales will rise higher than last year, consumers should expect to feel the impacts of the global supply-chain issues and global personnel shortage. This may mean fewer deals and lower inventory on particular items, longer wait times in stores and longer shipping times too. You may be quick to turn to the internet when trying to find that special someone a gift. But, be cautious when shopping online as a common hacking tactic is to lead you to an untrustworthy site by giving you a "better price."
Learn how to protect yourself when shopping this holiday season. Check out the security tips below to help avoid online shopping scams, phishing attempts or having your card information stolen.
When shopping online, check the identity of the seller. Is it a trusted seller such as Amazon, Target, Walmart, Best Buy, Kohls, Macy's, etc.? Make sure the site has the lock icon next to the URL address and that the address begins with "https." Be on the lookout for "look-a-like" URLs and websites that may copy the look and feel of these well-known websites. Don't click on any suspicious links or pictures.
Don't give out too much information. Typically, the only information a seller will ask for to make an online purchase is your email, card information, shipping/billing address, and phone number. If a site asks you to provide any protected information such as your social security number, mother's maiden name, date of birth, etc. it is likely not a reputable retailer.
Pay with a secured card. If possible, pay with a credit card as many issuers are able to recover money from scammers in the case of fraud.
Avoid unknown payment methods. Avoid direct money transfers such as using your personal checking account to pay for goods and services. Make sure to do your research when selecting money transfer platforms as online scammers prefer to use platforms that make it difficult to get your money back after you transfer funds.
Be mindful of purchasing products through social media. As social media continues to become an important aspect of our online lives, scammers and hackers alike prey on vulnerable consumers who don't suspect phish-y sites when they see ads on social media.
Did you know that online purchasing is the most common type of scam? According to the Better Business Bureau (BBB), online shopping scams accounted for 38% of complaints in 2020. An AARP-sponsored study by Javelin Strategy & Research found that 29 percent of consumers ages 50 and over have been are the most effected by online shopping scams. What is also staggering is that in a November 2020 AARP holiday shopping survey, 72% of U.S. consumers were concerned about their personal and financial information security online, but only 15% of these consumers could correctly answer 7/10 true or false questions about safe shopping practices. Being mindful of where and what you purchase online can save you from becoming scammed this holiday season. What are you doing to protect yourself? #BeCyberSmart
For more information about how to keep your personal information safe, check out our Security Center.