Service Credit Union Celebrates Grand Opening of Laconia Branch
---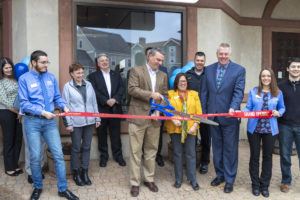 Service Credit Union recently celebrated the opening of its newest branch in Laconia, N.H. The grand opening included a ribbon-cutting ceremony with speeches from Service Credit Union President-CEO David Araujo, Lakes Region Chamber President Karmen Gifford, and Laconia City Manager Scott Myers.
"We're thrilled to have the branch here in Laconia and to have your presence here in the Lakes Region. And we're very proud to have [Laconia Branch Manager] Jennah Wolak on our board of directors," said Gifford. "It's great to see your support in our community," noting Service Credit Union's location in the city's Veteran Square and how it ties back to the credit union's support of veterans.
Araujo, himself a veteran of the United States Marine Corps, also cited Service Credit Union's ties to the military, which date back to the credit union's opening in 1957 to serve what is now the Pease Air Force Base community. He also emphasized the credit union's ongoing commitment to serving veterans and active military members around the world, as well as communities across the state of New Hampshire.
The Laconia branch is the 35th Service Credit Union location in New Hampshire and the 50th branch worldwide. It is open Monday to Friday from 8:30 a.m. to 6 p.m. and Saturday from 8:30 a.m. to 1 p.m.