Service Credit Union Extends USO Partnership to Support U.S. Operations
---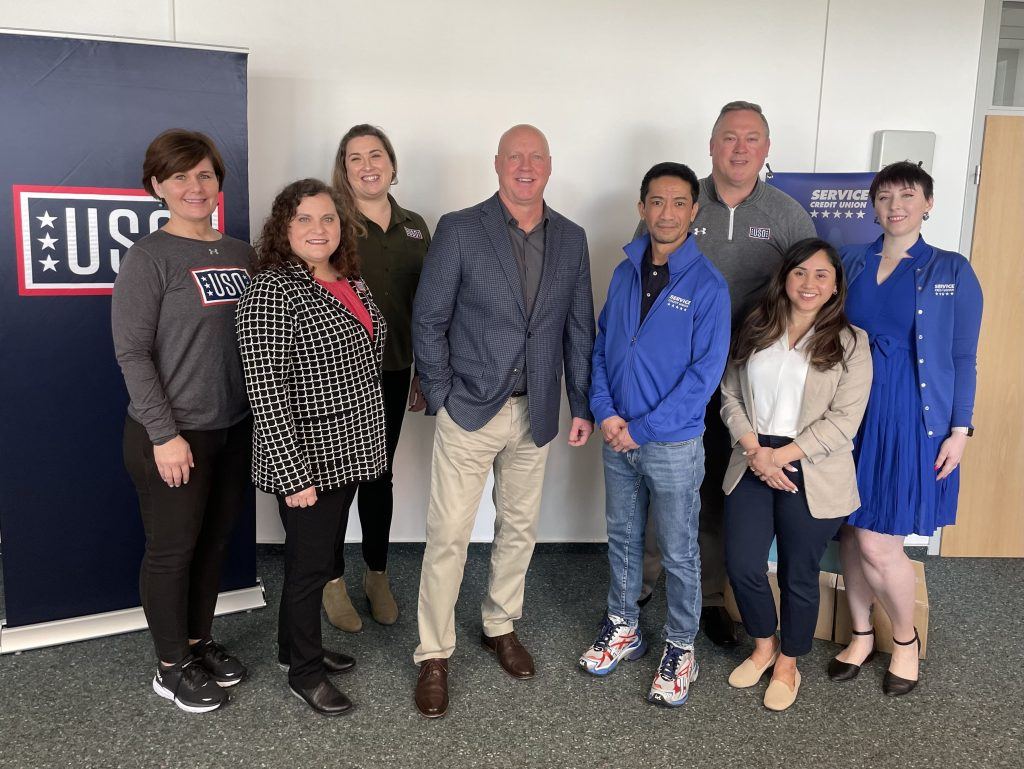 Service Credit Union, a longtime partner of the USO, has expanded its reach to support the USO's mission in the United States as well as abroad. Service CU is dedicated to supporting the military community by helping the USO be "the force behind the forces" and is excited to kick off its stateside support as a sponsor of the 2023 USO Boston Marathon team.
After many years of working alongside the USO on community events on U.S. military bases in Germany, where Service Credit Union has 14 branches, in September 2021, Service CU became an official Mission Partner of USO Europe, Middle East and Africa (EMEA). That means Service CU's support is immediately deployed where it is needed most. The partnership also includes support of the USO's monthly Coffee Connection events, a space where military spouses can share their stories, experiences and resources to include financial education topics, as well as regularly scheduled sponsored events such as Sun and Fun, Thanks for Thanksgiving program, Trees for Troops, single service member holiday dinners, newcomers' orientation, a mentorship program and welcome center events. This partnership allows these events and initiatives to be free of cost to the military community. Now, with its expanded sponsorship, Service CU will also sponsor events and initiatives that support military communities in the U.S.
"Continuing to expand our partnership with the USO has been fruitful for all," said Jaime Yates, Community Relations Manager at Service CU. "Being a mission partner further spreads the word about the credit union difference, and how important it is for us to support and connect with our nation's heroes, not only financially, but out in the community as well."
Service Credit Union is sponsoring Team USO at the 2023 Boston Marathon, which includes U.S. Navy Senior Chief Robert Bruce, U.S. Army veteran and Bronze Star recipient Krysta Cass, USO volunteer Allison Hayes and lifelong runner and native New Englander Paige Khosla.
On the Friday before the Boston Marathon, Service Credit Union will also lend its support to the USO by participating in a USO Care Pack and Welcome Reception at the USS Constitution Museum in Charlestown, MA. Service CU volunteers will join members of Team USO and other Team USO sponsors in building care packages for deployed service members.
"In our time working with the USO in the EMEA area, volunteers from our overseas branches have packed over 30,000 care packages for service members, helping give them a connection to home. We're excited to give our staff in the U.S. the same opportunity to expand our support and get involved in this wonderful partnership," added Yates.
"We couldn't be more proud of our strong partnership with Service Credit Union, a true champion for service members and their families. Thanks to their ongoing support, the USO can continue to connect our military members with family, home, and country—no matter where they are," said Grant McCormick, USO EMEA Regional Vice President.