How to Save Money This Holiday Season
---
The below content is provided by our friends at Pocketnest, and does not reflect financial advice from Service Credit Union. Service CU's Fin-Life app for financial wellness is powered by Pocketnest. Download it today on the App Store or Google Play!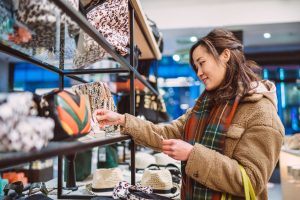 Snow is falling, holiday music blares through the radio, houses are lit up with decorations, you're bundled up on the couch in front of the fireplace. . . and cha-ching goes the cash register. Ah, yes, it's the holiday season. The season of spending—err, giving.
The holidays can be both the best and most stressful times of the year. Wanting to buy presents to show your closest friends and family how much you love and care for them is only natural! But, trying to do so without breaking the bank can be, well, tricky.
Much like everything finance-related, it's all about balance. You don't have to drain your bank account on gifts, but you also don't have to forego the fun of gift-giving. Follow these simple holiday budget tips to have a (financially) stress-free holiday season. While we can't protect you from all holiday stressors—like the "So, are you seeing someone special?" questions or the electric turkey carver that went oh-so wrong—we can protect you from overextending yourself financially.
Set a budget
Don't have a budget yet? No problem! We'll help. (Learn how to set a budget.) Once you get your overall budget in place, determine how much money you have leftover for gifts and other purchases. If you haven't set aside a monthly amount for gifts, it might be helpful to dip into your "entertainment" budget. That way, you're not overextending or taking funds that should be set aside for bills. (Heads up: gifts aren't only for the holiday season. Weddings, baby showers and "just because" gifts add up; we recommend putting a line item in your budget for gifts to make your life easier.)
When creating a holiday budget, the important part is to set a threshold on where the spending will stop. This is one of the most important points to keep in mind when holiday gift shopping—often a few items thrown into the cart will double, and triple, and before you know it, you've spent more money than you intended. And, just like that, there goes the budget you worked so hard to create! Overspending this holiday season is avoidable and we believe in you!
Plan ahead
Yes, you've heard us say this before. While it doesn't have to be difficult, financial planning does involve, well, planning. Before you start clicking away on Amazon or ringing up that credit card, sketch out a quick plan.
First, make a list of people you plan to give gifts. You might even consider creating a tiered list—top tier for folks you must get a present (like mom and dad), middle tier you'd like to give a present (like your college buddies), and bottom tier for the folks it'd be nice to give a gift, but would be okay having to strike from the list (like your neighbors or distant relatives).
Next, hop back to your budget and set aside how much money you can spend on each person. From there, you can determine if you're in budget, or if you need to trim your list.
Keep track
Holding yourself accountable can be the hard part of holiday budgeting. A good way of staying on track with your holiday budget is to take notes along the way. As you purchase gifts, it might be handy to keep a spreadsheet of your holiday shopping list, intended budget, and actual spending. That way, if you overspend on one person, you'll be able notice right away and make a plan to make up for it elsewhere on the budget. It may seem strange, but creating an organized spreadsheet or Google Doc can help you make sure you didn't forget anyone on your list and still stay on a budget.
Price match
Hello, honey! Discount Debbie here to help you navigate your holiday shopping negotiations. While department stores don't seem like the place to haggle, many stores will match the price of an item if you find it cheaper somewhere else (major cash savings alert!). Keep an eye out for deals on items, coupons and other ways to save on gifts or even holiday food preparations. Grocery stores are certainly known to price match, so don't overpay for that turkey!
Be skeptical of Black Friday and Cyber Monday
Whether brick and mortar shops continue with Black Friday in-store sales this year, or rely more heavily on Cyber Monday, the story is the same: major once-a-year steals. However, beware! These deals are not always what they seem. In fact, sometimes, regular sales at common stores have the same or even better discounts. If you do choose to partake in Black Friday or attempt to search on Cyber Monday, be on the lookout and make sure the price you are paying is actually saving you the most.
Opt for older tech
Looking to buy the latest and greatest iPhone for your significant other? Or the newest video game for your young nephew? The best and latest on the market devices are not always the most cost-friendly option. Plus, grabbing the same product from a few years back won't make you drop a paycheck and still shows you care.
Try the DIY approach
Sometimes the smallest gifts go the longest way. Think about getting your best friend a nice decorated frame with a picture of you both or a homemade six-pack of brews instead of less personalized gifts like clothes, tech or tools. Not only will you have fun making the gift (and, perhaps sampling your concoctions along the way!), your friends and loved ones will always remember and treasure your gift. Oh, and you can save a few bucks. A win-win-win situation.
Consider Time vs. Money
Sometimes gifts, even inexpensive and handmade, just aren't in the budget. And that's okay! This year may have taken a wild turn on you, and your holiday budget might be a bit leaner than it has been in the past. Or, perhaps you're just starting out and all your cash is going toward rent. Whatever your reasoning for being on a tight budget, this holiday season can still be special and rewarding. Sometimes the best gift of all is simply time. Your gift could be setting aside time for a walk with a loved one, or perhaps a foot rub. You could cook dinner for your loved one (see: healthy eating tips on a budget)! Sometimes nothing quite says "I love / appreciate you" like "I want to spend time with you."
This holiday season, you'll be ready to share love and joy—without breaking the bank. Download Service CU Fin-Life to get your financial plan in place—for the holidays, and everything else!