Challenge Yourself to Help Your Community
---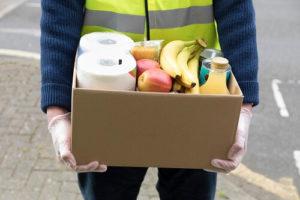 When we talk about poverty, we often talk about dollar amounts, the poverty line, spending thresholds, and even politics before we talk about families and our local community.
As we near the end of January, Poverty Awareness Month, I challenge you to think of people.
What does poverty look like? It looks like a child standing in a different lunch line at school. It looks like a parent who works three jobs. It looks like not having a place to call home. It looks like our neighbors, grandparents, friends, and co-workers.
We can help make a difference in our communities not just during the month of January, but all year long.
Are you up for the challenge?
Support Youth
Challenge: Become a virtual mentor! Mentoring gives youth the inspiration and confidence needed to achieve their dreams, provides parents with a network of support and offers volunteers the opportunity to make a big difference in someone else's life.
Provide Food
Challenge: Volunteer at your local food bank. According to the NH Food Bank, "Since the spread of COVID-19, there are approximately one in seven men, women and children in New Hampshire who are food insecure, meaning they do not know when or where their next meal will come from." Although the pandemic has changed what volunteering looks like, the need for volunteers could not be greater. You could sort food, assist with a mobile pantry, deliver meals, and even volunteer from home.
Donate to Veterans
Challenge: Collect must-need items for a local shelter for veterans in your community. Residents at the Liberty House, a nonprofit which helps homeless and struggling veterans by connecting them to available resources and providing a safe, substance-free transitional home, need jeans, boots, sneakers, and other clothing items. Can't collect items? You can also donate to the Service CU Impact Foundation as it is a part of our mission to provide emergency care for veterans.
Educate Yourself
Challenge: Educate yourself on the impact of poverty in your state. While poverty is a complex issue, it's important to understand how your community is impacted. Check out this article on the, "US Poverty Rate by State" and find your state on the interactive map. Learn the answers to questions like, "what is the minimum wage in your state?" or "what is the poverty rate in my state?"
Make Your Voice Heard
Challenge: Share your volunteer experiences, the facts you learn, and how you are making a difference in your community to your friends, family, and even through social media. Tag @ServiceCreditUnion on your posts and show us which challenge you accepted!