Five Women-Leaders Share Their Best Career Advice
---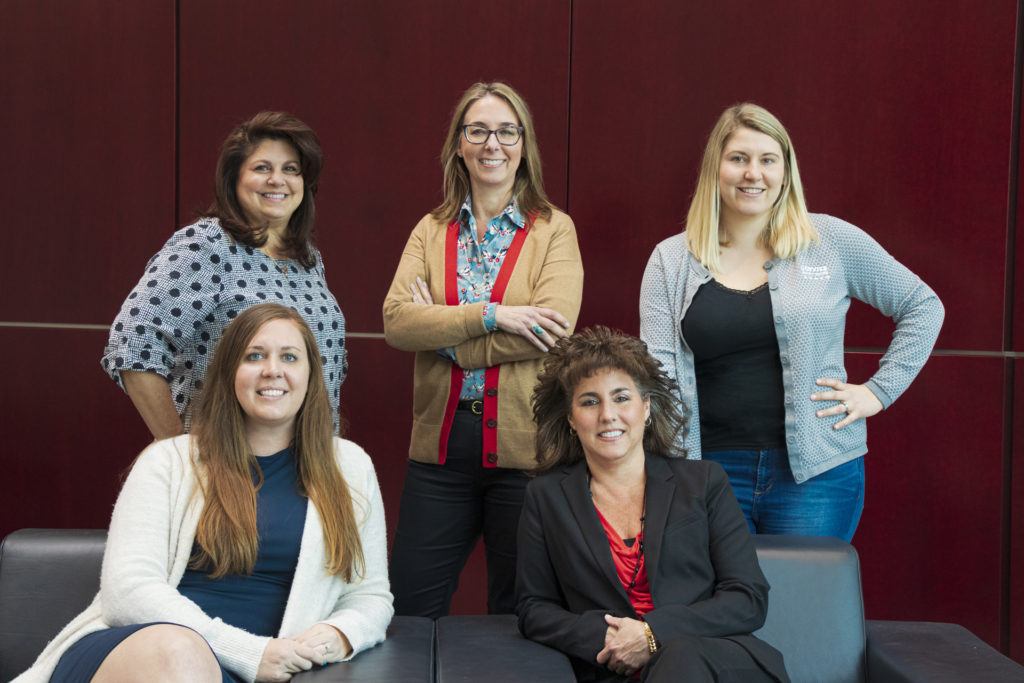 "Being a successful woman in business means you get your power from within as a woman, not from what others think, approve or expect from you."
– Melis Sawerschel, Founder and CEO of She Is Rebel.
March is Women's History Month. This celebratory month began in 1987 through a declaration made by Congress after former President Jimmy Carter originally declared March 2nd– 8th as National Women's History Week. Ironic, right? A man declaring a week for women. I digress.
This is the one month of the year that we honor the women that paved the way before us, the women who are breaking the glass ceiling aside of us, and the little girls who are looking up at us; learning and listening.
We honor our mothers, our sisters, our aunts, our friends, our coworkers, and our leaders. And, of course, we look to them for guidance.
And as a 24 year-old woman, I could still use a whole lot of guidance.
I was fortunate enough to sit down with a few of our female-leaders here at Service Credit Union as they offered advice for young women, like me, who are just beginning their careers.
1. Follow your passion(s) and love what you do.
It's OK to not know what your career path is yet. If you chase the things that make you happy, you will eventually land where you are supposed to be. This is not meant to be passive. You should by all means actively chase what you want. Service CU's Vice President of Marketing, Wendy Beswick, says on this topic, "The world of business is moving and changing so quickly, so pick something that will change with you. You may not end up doing what you set out to do originally and that's OK." Follow the path that makes your heart race and just keep going through the motions and you will end up where you should be.
2. Not being a team player, is not an option–Teamwork is essential.
"Teamwork and collaboration are everything. At the end of the day, we are all working toward the same goal and we need to be patient and kind," says Heather Dufourny, Assistant Vice President of Consumer Lending and Credit Administration. "We need to remember that the people we work with are the same people that we send Christmas cards to." As you begin your career, begin establishing your network of people, at work, that you can count on, to be honest, listen to your ideas, and provide advice. When a team is operating cohesively, everyone shines.
3. Your voice is worth being heard, but speak respectively.
Let's face it, it can be hard to speak up, especially as a young woman. But your opinion and voice add value to the conversation. Once you have a seat at the table, be sure people can hear you speak. As one of the few women in the IT department, Assistant Vice President, Donna Cormier, admits that sometimes she feels the need to prove herself. "Being a woman in IT is probably more difficult than being a woman in the financial space. But you prove yourself by working hard and giving respect," she says. "The more you show, the more you receive.
4. Confidence is key.
Staying confident and keeping your chin up day-in and day-out can be tricky, especially when you are finding your way down the winding road of your career path. Our Assistant Vice President of Regulatory Compliance, Stephanie Kinnett, admits that it can be terrifying the first time you make a mistake, "but you are the one putting all of the work in, to do your job, and you are the one who knows your job the best." She added, "One of the best things I learned was how valuable it is to say 'I don't know.'" Each day, your confidence will grow a little bit more until one day you know you've got this.
5. Innovate, innovate, innovate!
Just because something is being done one way doesn't mean it's the best or most efficient way. As someone just starting out, at any company, you have the ability to bring fresh eyes and fresh ideas. This advice comes from May Hatem, Vice President of Human Resources and Education. "Make sure you always find your work interesting and don't be afraid to think outside of the box," she says. "There is always something new to learn and to be done."
My advice? Create a relationship with a woman leader in your own work environment. Find someone that you can look to for direction. A great way to find a mentor is simply just to ask. A mentor can help you identify and build your strengths and also recognize your weaknesses. Starting this conversation can seem daunting, but is actually very simple—approach the person with some predetermined goals that you would like to reach. Most importantly, offer to put in the work and someday, women like you and I will be women-leaders too.