How You Can Make a Difference During Poverty Awareness Month
---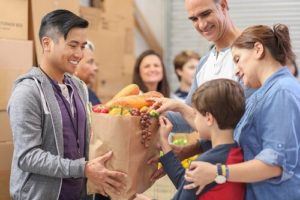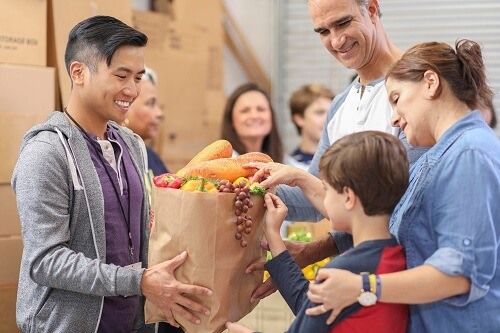 January is Poverty Awareness Month, a month-long initiative to call attention to poverty in our country.
Poverty is not an easy issue to talk about, but it is everywhere in America. It impacts our neighbors, friends, and families. Despite this, poverty is often hidden and struggled with quietly, masking the pain it causes. So, what is the current state of poverty in America, and what can you do to help?
According to a survey put out by the United States Census Bureau, the poverty rate in the United States in 2019 was 10.5%, The good news is that figure was down 1.3 percentage points from 2018 and is the lowest since the data was initially published in 1959. However, 10.5% still represents roughly 34 million Americans. That means 34 million people in the U.S. are living below the poverty threshold, which is a sliding scale for annual income based on family size, ranging from $13,300 for a single person to $25,926 for a family of four.
As stark as that reality is, many living above the poverty line still struggle to afford basic expenses. The supplemental poverty measure conducted by the Census Bureau in 2018 noted that programs such as Social Security and the Supplemental Nutrition Assistance Program (SNAP), commonly known as food stamps, keep 27 million and 3 million people from going below the poverty line, respectively. Improvement in the federal poverty rates is crucial, but it's a fragile measurement, proven recently by the events of 2020.
COVID-19
Sadly, much of the progress made in the past 10 years has been erased by the COVID-19 pandemic. With such a rapidly changing landscape, it can be hard to interpret just how much damage has been done, but two indicators that can be helpful are the unemployment and food insecurity rates.

During the week of Nov. 14, 2020, approximately 5.9 million Americans filed a "continued claim" for unemployment insurance, according to the Labor Department, which nears the pre-pandemic high of 6.5 million continued claims from March 2009 during the Great Recession. Continued claims are the number of people filing for unemployment benefits for two or more continuous weeks. Thankfully, this figure is down from the pandemic's peak of 23 million in May, but it's still more than three times higher than the number of claims in February of 2020, per CNBC.
Looking to the state of food insecurity, as of 2018, one in nine people in the U.S. struggled with hunger, which translates to roughly 37,227,000 Americans. According to Feeding America's report in October, this number could rise to more than 50 million, including 17 million children, due to the economic impact of the pandemic.
How are food banks responding? From March through October, food banks in the U.S. have distributed an estimated 4.2 billion meals. Underscoring this surge is Feeding America's report that "from March through June, four in ten people visiting food banks were there for the first time."
Organizations such as No Kid Hungry focus on providing free access to additional meals at school, such as breakfast, after school, and summer meals to children in need. With the pandemic forcing so many schools into remote learning, access to those meals has been cut off. In response, No Kid Hungry has sent nearly $55 million in emergency relief to 1,674 schools and community groups to help children who have lost those healthy meals they depend on.
Right in our backyard, the New Hampshire Food Bank was tasked with an unprecedented surge in need as well. According to executive director Eileen Liponis, the food bank purchased "more food in just a month of March in 2020 than we bought in all of 2019" and overall demand was up 40% for the year. In April, Service Credit Union sought to help with that demand, donating $100,000 and 1,326 pounds of food to N.H. Food Bank.
How can you help?
It can be overwhelming to see how many people are struggling, but there are opportunities for you to help if you are able to do so. In difficult times we often turn to our friends, family, and neighbors, so helping in your community is a great start.
Food banks nationwide are facing unprecedented demand and many need additional volunteers to help meet this demand. If you can't volunteer your time, monetary or food donations are crucial as well. Searching the web for "food pantry near me" can help identify which organizations serve your community and what they need most.
The need extends beyond food. There are numerous organizations that provide assistance to specific groups that may be nearer to your heart. One such group that Service CU partners with are Veterans Count, which provides resources and services to veterans, service members, and their families, including employment counseling and emergency financial assistance.
Lending a hand doesn't solve economic issues alone, but it can ease the hardship carried by those in need and allow them the opportunity to focus on building a sustainable future for themselves and their families.