Tricks and Ideas to Help Through the Quarantine
---
A few tips, tricks and ideas to help through the quarantine.
Social distancing can make us feel anxious, scared, or lonely, but in these uncertain times, we are always looking for the positive. As we all (hopefully) do our best to stop the spread of coronavirus by staying inside, here are some tips, tricks, and ideas to keep up with your mental, emotional, and physical health.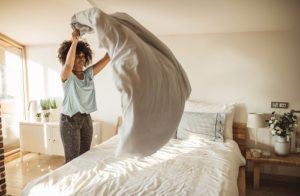 Make your bed in the morning – As silly as this one may sound, I think it is an important one to mention. Start your day off on a positive note by accomplishing a small task such as this. Making it a habit to do it every morning encourages mental discipline, which is beneficial for us all. A few years ago, I watched a video of Navy Seal Admiral William McRaven giving a speech about how changing the world starts with making your bed. Starting your day with a task completed will give you a small sense of pride and will encourage you to do another task, and another, and another. The little things matter, and add up to bigger things.
Learn a new skill – With the abundance of resources available online, now is a good time to finally watch some of those tutorial videos you have been meaning to watch! Teach yourself how to sew, juggle, play the guitar, draw or paint! If you are a Pinterest user, look at that board you created that is full of recipes or DIY projects that you just have not had time to get to before now.
Spend some time in the garden, or do some indoor planting – Get outside and rake the garden, or move those lilies you have been meaning to transplant. Don't have a yard with a garden? Plant something inside! If you are an avid coffee drinker, like me, hold onto your used K–cups to use as planters. There are many benefits to using coffee grounds as fertilizer, and since used K-cups have a hole in the bottom, you already have a method for drainage.
Have a Christmas movie night – Yes, I know it's spring, but so what? Pull out some of your most joyful Christmas decorations, grab the hot chocolate and enjoy an all-time favorite such as "A Christmas Story" or "Elf." Have any leftover wrapping paper? Before starting the movie, have everyone wrap his or her electronics and give yourself the gift of unplugging for a while.
Exercise your body and mind – Don't forget to keep moving while at home. If you are working from home, schedule breaks for yourself to get up and move around. Follow along with a workout video online, jog in place, do jumping jacks or pushups. Exercise your mind as well by reading a book or starting a journal.
Change your "I have to's" to "I get to's" – I believe that positivity can go a long way, and sometimes the fake it 'till you make it mantra rings true! Instead of thinking or saying, "I have to stay home," think or say, "I get to stay home." Change "I have to home school my kids" to "I get to homeschool my kids."
Make a photo book – There are free apps available that allow you to create momentous with photos saved on your phone. The one I use is Shutterfly, where you can make photo books, albums, calendars, and so much more. Create a custom calendar for 2021, and even include birthdays, anniversaries, and any other days of significance for you. You could also use Snapfish or Mixbook, which also offer these customizable products.
Keep making plans – Although making plans is going to look much different right now, it is beneficial to have things to look forward to throughout the day. Schedule things for yourself and make it a point to follow through. After making your bed in the morning, think about what positives you can incorporate to keep your motivation up. For example, send a friend a text and ask if they are available for a phone call or FaceTime at 1:00 p.m. At 3:00 p.m., plan to spend 30 minutes exercising. You can eliminate stress and anxiety by looking forward to a day with plans.
Do some spring-cleaning –Take some time to go through your closet, or go through that box in the corner that you have been meaning to cleanout. While you are at it, why not rearrange a room for a fresh new look?
Remember, we are all in this together. Be a part of the stop and not a part of the spread by staying home as much as possible. If you do need to leave the house, practice social distancing and wash your hands frequently. Stay positive everyone, we will get through this together.