The Best Ways to Give Back to Your Community This Holiday Season
---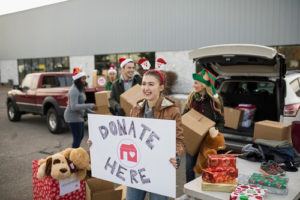 My mom and I are die-hard Christmas Celebrators. A large part of our holiday festivities includes giving back to our local community because, at one point, we were the family that needed help. I can remember the Thanksgiving that the beautifully wrapped basket full of food appeared on our doorstep. Or the morning of Christmas Eve when the volunteers appeared holding black trash bags which went straight into my parents' bedroom full of wrapped gifts for myself and my two sisters. It wasn't until I got older that my mom finally admitted to staying up late that Christmas Eve carefully unwrapping the gifts that were dropped off to investigate what they were so that she wouldn't be surprised when we opened what was under the tree. We were one of the families that hated hearing that Santa had given our friends iPods and laptops because, at the time, he wasn't stopping by our house with those gifts.
Now that I am older, I appreciate the fact that the holidays look different for everyone and that everyone needs support at one time or another. I keep an eye out for different ways to give back to our community. My mom and I pay it forward, as a holiday tradition, and you can too.
Here are some simple ways to give back this season:
Donate to a Local Food Pantry
Food drives are a common and easy way to give this holiday season. When shopping at your local grocery store purchase an extra can of soup or veggies to donate. Frequently there are boxes waiting for donations at the end of the checkout line. Some places, even offer a prepackaged bag of food for purchase that will then get donated to those in need. Check out the local grocery stores in your community to see how you can contribute. Or if you are overseas this holiday season you can donate groceries to the Landstuhl Fisher House.
Pro tip: Donate food that you and your family would want to eat, not what is living in the back of your pantry.
Donate Toys
The basic mission of the Marine Toys for Tots Program is to collect new unwrapped toys and distribute those toys to less fortunate children at Christmas. Organizations, like Service Credit Union have a donation box in each of their stateside branches from now until December 20th. Make a point during your holiday shopping trip to pick up an extra toy. You can even make an afternoon of it by participating in Stuff-A-Bus! Purchase your toy and dance your way over to the radio hosts parked out front at the Crossings in Newington, NH. The WHEB, Z107, and 95.3 The Bull DJs in addition to the crew from Greg and The Morning Buzz will be outside of a large school bus where you are invited to donate your toy and stuff that bus.
Pro tip: Toys For Tots donates gifts to children ages 0-17. Try donating something a teen might like.
Donate Blood
Giving back to the community doesn't always have to involve a purchase. Every day, blood donors help patients of all ages and the process is simple. Not sure where to start? Service Credit Union Is hosting its fourth annual blood drive through the America Red Cross on December 6th at its Corporate Headquarters from 2:00-7:00 p.m. To participate please visit https://www.redcrossblood.org/ and schedule an appointment by selecting the "Donate Blood" box. Then select December, 6th and Service Credit Union. On the day of the donation don't forget to visit www.redcrossblood.org/rapidpass and bring your rapid pass. You could save a life this Christmas.
Pro tip: Be sure to bring two forms of identification at the time of donation.
Send a Service Member a Holiday Card
Not everyone has the luxury of being home for the holidays. Show appreciation for those who are keeping you safe on Christmas and every day by sending a simple holiday card to a service member. Many organizations make it easy and fun to send a card or letter to our troops overseas. Check out Operation We Are Here and learn how to send your holiday message. Or if you will be on a base this holiday season, presenting a service member with a handmade card can go a long way.
Pro Tip: Pretend you're writing a card to a friend. Personal messages mean the most.
Run or Walk for Charity
A fun way to give back this holiday season and stay active at the same time is to participate in a holiday charity race. Not a runner? That's ok, grab a pal and walk for a cause. Races for charity around the holiday season take place all over the country and vary in length. The cost to register is not typically more than about $25 and children are often less. Choose a cause that is close to your heart and register for a race today.
Pro tip: Get the whole family involved in this activity. Who knows, a photo from the race could make a nice holiday card.
Adopt a Family
Lastly, grab a family member or friend, visit a local shelter and adopt a family for Christmas. The shelter will give you a little information about each family member and a list of items that he or she may want or need. Once you have purchased your items, the shelter will wrap and deliver them. These families are your neighbors, friends, and coworkers and they need a little extra help this holiday season. You may not know who they are but they will never forget your kindness.
Pro tip: You may even want to make it a mother-daughter holiday tradition.