Navigating the Public Service Loan Forgiveness Program
---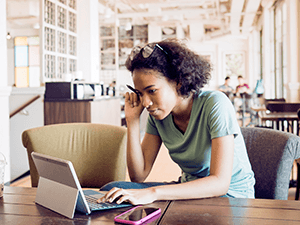 Student loans and paying for the college experience in America continues to be a hot topic as we enter the second-half of 2021, and it's easy to see why: Americans collectively carry $1.7 trillion in outstanding student loan debt, with 11% of student loan accounts sitting delinquent or in default as of early 2020.
For those choosing a post-college career in public service, however, there may be an opportunity to qualify for repayment relief through the Public Service Loan Forgiveness (PSLF) program. This federal program forgives the remaining balance on a borrower's federal student loans when they meet certain criteria. Determining eligibility can be a bit complex, but if you qualify, it's well worth the effort. Here's how to figure out if you might be eligible, and what needs to be done to apply:
How does Public Service Loan Forgiveness work?
An act of Congress in 2007 established the PSLF program to encourage more students to enter public service careers. Designed to ease the debt burden of college graduates who take qualifying jobs, it's important to note that the program does not forgive an entire student loan. It forgives any balance remaining on a federal direct loan once a borrower has made 120 qualifying monthly payments under a qualifying repayment plan while working full-time for a qualifying employer (remember when I said qualifying can be a bit complex?). As of June 2020, the average loan amount forgiven under the Public Service Loan Forgiveness program was $61,592 – well worth investigating whether it might apply to you.
And the criteria is…
Only loans made under the Federal Direct Loan Program qualify for PSLF. Loans from private lenders (like us), the Federal Family Education Loan (FFEL) Program and the Federal Perkins Loan Program won't qualify unless they are consolidated into a direct consolidation loan.
"Full-time" work, another important piece of qualification, means you meet your employer's definition of full-time employment or work an average of at least 30 hours per week. Having multiple qualifying part-time jobs can count as full-time employment, assuming your total average hours worked add up to 30 or more hours per week.
A borrower must also make 120 on-time payments over 10 years before being eligible to receive PSLF, and only payments made while you're employed full-time by a qualifying employer (see below) count towards the total.
Employers that qualify for PSLF include: U.S. federal, state, local, or tribal government organizations at any level, including:
The military
Public schools, colleges, or universities
Entities such as public transportation, water, or housing authorities
Public child and family service agencies
Full-time AmeriCorps or Peace Corps volunteer
Employees of some nonprofit organizations that are tax-exempt under Section 501(c)(3) of the IRS code may also qualify. For more information, visit http://www.studentaid.gov.
What if I get denied?
You'll receive formal notification from FedLoan Servicing if your application for Public Service Loan Forgiveness is denied.
Additional avenues for student loan payment relief are available by consulting your loan servicer for income-based repayment options and/or other student loan forgiveness programs. Refinancing your federal student loans at a lower interest rate can reduce both your monthly payments and the total interest you'll pay over a loan's term. This is done through a private lender, like Service CU's partner, Student Choice. More information can be found here. Whatever your situation, loan amount, career, there are opportunities to help lessen or ease the burden of your student loan debt. If you have chosen a career in public service, there may be no better path than the Public Service Loan Forgiveness program.