Service Credit Union is Title Sponsor of PopUp NH
---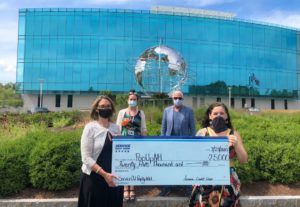 Service Credit Union has joined forces with a motivated group of Portsmouth locals to create a pop up market in an effort to support struggling Portsmouth businesses.
Service CU @ PopUp NH, located at the Bridge Street lot with a partial closure of Bridge Street, will allow Portsmouth restaurants and shops to continue operating amid challenges posed by the ongoing pandemic. This open market venue will feature food, beverages and live entertainment.
Kathleen Cavalaro, Executive Director of the Seacoast Reparatory Theatre and mastermind behind the project said, "PopUp NH came to life when a group of business leaders and community members organized to explore ways we could help our community. We saw our friends and neighbors struggling and brainstormed several efforts to help."
With deep roots in Portsmouth, Service Credit Union saw the importance of this project as a way to help as many businesses as possible to stay afloat through these times. "We saw the need and didn't hesitate to step in," said Service CU VP of Marketing, Wendy Beswick. "As a member-owned credit union, it is our responsibility to give back to the communities in which we serve, and we are excited to see this project come to life."
Cavalaro is excited about the outpouring of community support that has been shown since the beginning of this project. "Service Credit Union's support is quite literally helping to save a few beloved Portsmouth businesses from closing," she said. "We can't thank them enough for jumping in to help when the community is hurting the most."
Service CU @ PopUp NH will operate on Thursdays and Fridays from 3:00 p.m. – 10:00 p.m., Saturdays from 12:00 p.m. – 10:00p.m. and Sundays from 12:00p.m. – 8:00 p.m. until October 31. Opening day is scheduled for Thursday, August 6, with a grand opening event to follow later in the summer. Those who want to make a donation, apply for performance, restaurant or retailer space, or to sign up to volunteer, can do so at www.popupnh.org.