Service Credit Union Receives Dora Maxwell, Desjardins Awards
---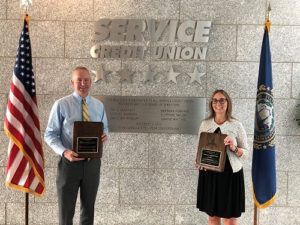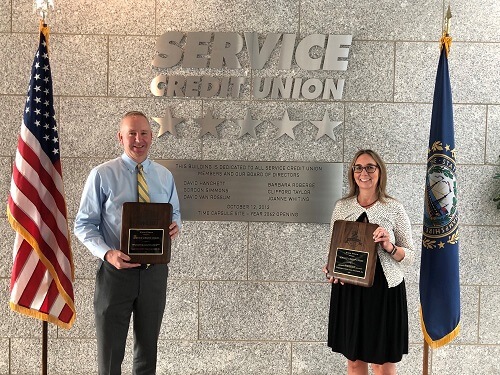 The Cooperative Credit Union Association and Credit Union National Association have recognized Service Credit Union as the state-level winner of the 2020 Dora Maxwell and Desjardins awards for New Hampshire. National winners will be announced in November.
Both categories are part of the National Social Responsibility Recognition Awards programs, which "honor credit unions that demonstrate the credit union difference through innovative community involvement and efforts to incorporate the credit union philosophy in their daily operations and member service," according to the CCUA's website. The Desjardins Youth Financial Education Award, named after youth financial education advocate Alphonse Desjardins, recognizes leadership within the credit union movement on behalf of financial literacy for youth and adults. The Dora Maxwell Award, named after the early credit union pioneer, honors credit unions for their charitable work in their communities.
Service CU received the Desjardins Youth Financial Education Award for its virtual take on the CU 4 Reality educational fair program: Bite of Reality. Due to the COVID-19 pandemic, the credit union had to quickly adapt its plans for in-person learning, and in doing so, purchased the Bite of Reality education app to take its budgeting reality fairs for middle and high school students online. The program was a great success, providing hundreds of students with an engaging app-based experience supported with live help from a member of Service Credit Union's financial education team.
The Dora Maxwell award was given to Service CU for its annual Pack a Pack campaign, which brings the local community together to purchase backpacks and supplies for New Hampshire schoolchildren in need. Since 2017, Service Credit Union branches in New Hampshire have acted as drop-off locations for the backpacks. The program is a collaboration between Service CU, WMUR, the Boys and Girls Club and the New Hampshire Food Bank to collect much needed supply-filled backpacks, fill them with healthy snacks, and distribute them to children in need. In 2020, Pack a Pack went virtual, with supporters of the cause using a landing page created by Service CU to make donations toward 2020 supplies.
"With financial literacy and community service at the heart of the credit union movement, as well as everything we do at Service Credit Union, it means a great deal to us to receive this recognition," said Service Credit Union Vice President of Marketing Wendy Beswick. "Amid the many challenges the past year has brought, our team was able to think quickly and adapt our programs to meet the ever-changing needs of our membership, and I couldn't be prouder."