Service Credit Union Recognized as an NH Veteran-Friendly Business
---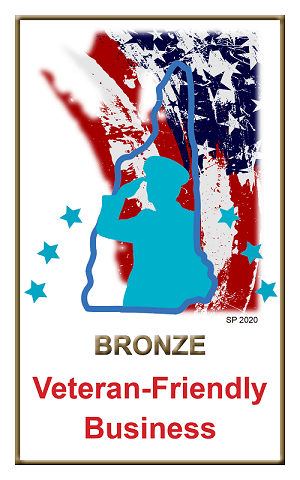 We are excited to announce that Service Credit Union has been named a Veteran Friendly Business in the first annual NH Veteran Friendly Business Recognition Program.
Service CU received a bronze-level honor during a virtual event on December 9 held by the NH Military Leadership Team, Department of Military Affairs and Veterans Services (DMAVS) and NH Employment Security (NHES), in which 19 New Hampshire employers were recognized for being Veteran-Friendly Businesses.
The NH Veteran‐Friendly Business Recognition Program was announced and launched this past summer to recognize businesses that value the contributions of service members, veterans and their families; support military and veteran families by identifying Veteran‐Friendly Businesses and to contribute to a broader effort to match talented and skilled veterans with positions in NH businesses.
The event opened with the reading of a letter written by Governor Chris Sununu to congratulate the 19 NH Veteran-Friendly Businesses on their recognition: "You value military experience, recognize the skills and talents service members and veterans provide, and your efforts to support and empower veterans and their families helps to strengthen our communities. Congratulations to these businesses and I send my best wishes for continued success," wrote Governor Sununu.
"Service Credit Union is honored to be recognized with all these other businesses that are doing so much to impact the Veteran community. Military is really at the heart of everything we do," said Wendy Beswick, VP-Marketing at Service Credit Union, who accepted the award on behalf of the credit union.
"The partnerships [in this program] are a win-win for all. It's a win for the Veteran who has sacrificed all for our state and country to be put into career opportunities. It's a win for employers to bring someone into the company who is established and has a good skill set. This is Chapter One of a long, storied career for this new program," said George Copadis, Commissioner of NH Employment Security.
"A common thread was visible today—compassion, conviction and care for honoring, fortifying, empowering and impacting our Veteran community. We can't do it alone. We need your support. You're the ones making a difference every day and we look forward to the next chapter of this program," said NH Adjutant General David Mikolaities, NH Department of Military Affairs and Veterans Services at the close of the event.
To view the full list of 2020 NH Veteran-Friendly Businesses, click here.
To learn more about working at Service Credit Union, check out our Careers page.