Service Credit Union Supports USAG Bavaria With Donation
---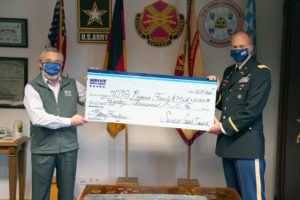 Service Credit Union, recently named the 2019 Distinguished Credit Union of the Year in U.S. Army Garrison Bavaria, Germany, presented the Garrison with a monetary donation during a ceremony at Service Credit Union's Grafenwoehr branch on October 7, 2020. The donation will help fund Family and Morale, Welfare and Recreation activities across the area.
Service Credit Union was recognized by the United States Department of the Army for its exceptional financial service and support of the Army communities in the Garrison, where it has four full-service branches. In 2019, Service Credit Union held 177 military events in USAG Bavaria and provided direct support of the Garrison's sponsored events. The credit union has served the area since 2001, and previously received this award in 2017.
In a nomination letter from the U.S. Army Garrison in Bavaria, Col. Adam J. Boyd wrote, "Service Credit Union stands out as the leader in crucial financial services, combating predatory lending [and providing] community financial education, 24/7 worldwide access and a full range of high quality, low-cost financial solutions for our soldiers. Their unrivaled ability to support our service members worldwide through multiple remote access channels enhances individual and unit readiness, as well as insuring the financial soundness of soldiers' families here in Germany. Ultimately, their 'service' helps our troops focus on the important mission at hand."
Service Credit Union offers a variety of services aimed at the unique needs of its military members, such as International Bill Pay, Early Pay, relocation loans and free financial counseling. It also provides full financial services to any active military members or veterans, and their families, around the world, including discounted auto loans, credit cards, savings accounts and free checking with Early Pay.
"As a credit union with deep roots in the military, it is quite an honor to receive this recognition from the U.S. Army. We are proud to be there for our military, veterans and their families and we are grateful to them for letting us serve their financial needs," said Philip von Streicher, Vice President of Overseas Operations at Service Credit Union. "Because military life can be so unpredictable, we must always keep up with the changing needs of our members. We're so thankful to our military members and would like them to know that we have the tools and resources necessary to keep up with them from one duty station to another; while on deployment base to base; and from life stage to life stage."