Service Credit Union Surprises Portsmouth Firefighters With Random Act of Kindness
---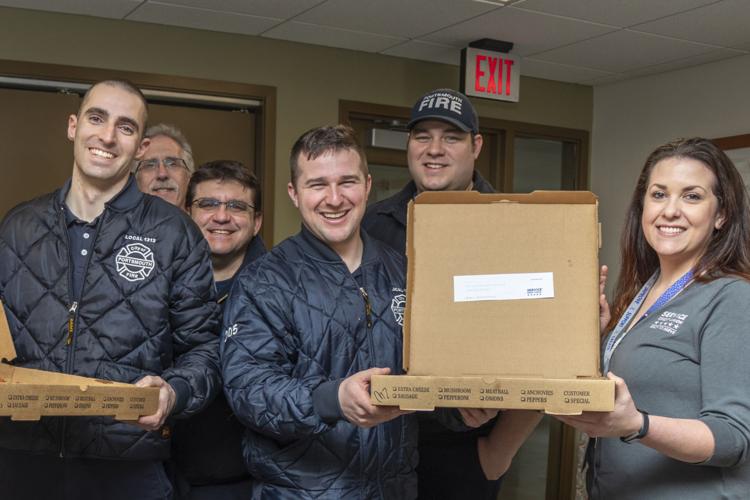 PORTSMOUTH —Service Credit Union employees stopped by Portsmouth Fire Station 2 on Lafayette Road on February 22 to surprise first responders with a delivery of free pizza, part of a larger "Random Acts of Kindness" program.
Launched in fall of 2018 in Germany where Service Credit Union has 15 branches on U.S. Army and Air Force installations, the program was created to surprise and delight those in communities served by the credit union.
The recent visit was the first Random Act of Kindness conducted by Service Credit Union's corporate employees, who work at headquarters in Portsmouth, just across the street from Fire Station 2.
"As a credit union, our relationship with our members and our communities is incredibly valuable," said Wendy Beswick, VP of Marketing at Service Credit Union. "That's why it's so rewarding to be able to go out and put a smile on peoples' faces by surprising them with the unexpected. It only takes a few minutes to brighten someone's day, so why not do it more often?"
"As firefighters, our whole lives are full of surprises, so getting pizza was a great surprise," said Captain William McQuillen of the Portsmouth Fire Department.
Earlier this month, Service Credit Union's Nashua branch bought lunch for the city's Fire Station 1, while the Bedford branch treated the police department to hot drinks and donuts. Other efforts have included treating lunchtime visitors to a free meal at Laconia's Burrito Me, and free breakfast at Maddie's in Salem on National Bagel Day.
While the week of February 11 marked Random Acts of Kindness Week, Beswick added, "We believe in doing Random Acts of Kindness all year long."
Service Credit Union plans to continue program implementation across all communities served by its New Hampshire branches.
The original story appeared in the Feb 28, 2019 edition of Carriage Town News.