Guide to PCS-ing in Germany: Finding a Financial Institution
---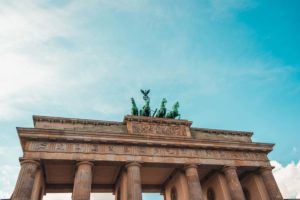 When you're in the military, travel and relocating are an inevitable part of the lifestyle. At Service Credit Union, we serve members all over the world, including thousands of U.S. military members on Army and Air Force bases in Germany. If you've recently relocated to Germany or are scheduled to, we're here with some basic tips to help make the transition smoother. So far, we've covered shopping and housing. This month, we'll be covering banking – something we'd like to think we're kind of experts on.
When you are arriving to your new duty station overseas, banking is not one of those things that comes up as priority until you need it. By then you are just rushing through the motions to get your errands complete. Why not take a step back, be proactive and give a bit more thought to your local banking options. Taking the initiative may save you both time and money.
Here are some questions to take into consideration when choosing a financial institution (FI) on a military installation:
Do you require access to the shared branching network?
Do you want access to your bank account via a mobile app?
Do you need to pay bills such as rent, cell phone and utilities in the local currency?
Having an account with an on-base credit union has many advantages that you can take back with you when you PCS back to the states. As the credit union mantra goes, once a member, always a member.
There are over 1,800 credit unions participating in the CO-OP shared branching network. Through this network, Service Credit Union has virtually 5,400 shared branch locations worldwide that you can use to:
Make deposits
Withdraw funds
Transfer funds between accounts
View balance inquiries
Process loan payments
You will need to have a valid government-issued ID and your member number available when accessing your account through the shared branch networks.
Having a financial institution that offers its own mobile app may save you a trip to the brick-and-mortar branch location. You can basically do any transaction that you would normally perform in a branch from the comfort of your home. No more standing in long queues to transfer fund or pay bills. You can even deposit your check using your mobile device's camera. The major thing to be mindful of when using mobile banking is security. It is always a good idea to stay alert and protected by following these tips:
Use strong passwords to unlock your device
Do not allow banking apps to remember your password
Do not save account numbers, PINs or passwords on your banking app
Download your FI's app from an official source
Immediately inform your FI if your mobile device is lost or stolen
Mobile banking is today's answer to the peripatetic nature of the military world but keeping your device secure should be your number one banking priority. Make sure your FI takes security seriously and has measures in place to help members stay alert.
If you will need to pay rent and/or other bills overseas, you may want to consider an FI with an international bill pay service. At Service Credit Union, you can pay your rent, cell phone bill, medical bills and more in 19 different currencies to more than 40 different countries. Not only can you do this at any Service Credit Union branch but also online and through the credit union's mobile app. This can be a one-time or reoccurring payment depending on your needs.
Make sure to choose the financial institution that best fits your financial needs, and is most convenient for you. Finding an organization such as Service Credit Union that straddles both the U.S. and the host nation's banking system will help make your banking experience at your new duty station easier along every step of the way.