Guide to PCS-ing in Germany: Finding Housing
---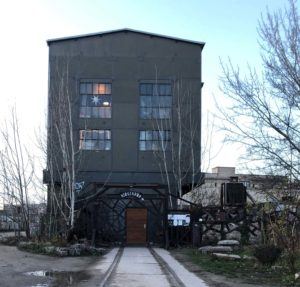 When you're in the military, travel and relocating are an inevitable part of the lifestyle. At Service Credit Union, we serve members all over the world, including thousands of U.S. military members on Army and Air Force bases in Germany. If you've recently relocated to Germany or are scheduled to, we're here with some basic tips to help make the transition smoother. In November, we covered Click here to read our blog about Germany shopping. This month, we'll be covering housing.
Now that have you have relocated to Germany and ready to start your life at your new duty station, you will need to find a place to live.
There are quite a few resources to assist you in finding your new home in Germany. A popular website to search for your next living quarters is www.immobilienscout24.de, which caters to local nationals throughout Germany. If you are stationed in the Kaiserslautern area, you can check out the Click here to visit the website of the publication Kaiserslautern American. This is a weekly command information publication that is published on Friday and is available throughout military installations in the Kaiserslautern Military Community.
When you are ready to pick your home, be prepared for some major differences between housing in Germany vs the United States.
For example, the voltage in Germany is 220v, while back home it is 110v. Consider this if you are bringing any electronic appliances with you. If your appliances are 110v, they will not work in Germany without a step-down transformer, which can be purchased at AAFES Post Exchange or Base Exchange. Ensure that you are not exceeding the wattage of your step-down transformer.
Everything but the Kitchen Sink
Did you know you may have to buy and install your own kitchen if it is not already provided by your new landlord? Yes, the entire kitchen to include the kitchen sink. This option may make your rent lower but the headache of finding a kitchen and installing it may justify the higher rent. The listing for your new place will stipulate if the kitchen is included.
Be prepared to purchase your wardrobe closet from a local furniture store, such as Ikea. The great thing about not having a closet is that you can customize it, as everyone's closet needs are different — sort of the same mentality of bringing in your own kitchen.
Recycling in Germany is strictly adhered to. Be ready to separate your refuse by paper, glass, plastic and organics. There are special bins that your landlord will provide you, and using them will be strictly enforced. If you do not recycle accordingly, your trash will not be picked up. Check out the Click here to visit the website of the publication Stuttgart Citizen for more details on recycling.
Utilities Are Extra
Utilities are not included in the rent, also known as kaltmiete or cold rent. Electricity is set to a fixed monthly amount based off the previous year's consumption. If you consume less than that amount throughout the year, you will get a credit. If you consume more than the monthly amount you will pay the difference at the end of the year. If you are the first tenant in a new building the electric company will estimate your electricity consumption based on your apartment features and size.
Heating is done by oil, gas or electricity. Oil is the responsibly of the tenant and can be purchased through AAFES tax-free. As an alternative, you can purchase heating oil on the local economy with a VAT form for a tax-free purchase. The oil is delivered to your home and pumped into your oil tank.
Do not expect to be surfing the web on move-in day. In the best case scenario, the process could take up to four weeks from the time you request internet service. Waiting up to three months is not a rare occurrence either. A popular internet provider for Americans stationed in Germany is TKS, whose customer support is in English. TKS also offers telephone, cable and cell phone service.
Sliding windows or doors are rare to nonexistent in Germany. All windows open inwards, like a door. Don't expect any window screens in your new dwelling, as these are not very common in Germany. The great thing about these windows is that they tilt inward from the top to provide frische luft, or fresh air. This is a convenient feature during rainy weather or if you have small children or animals. What you can expect and is quite common is this godsend of a window feature called rolladen. These are basically shutters located on the exterior portion of a window that can be rolled down to block out sunlight in order to create a pitch-black room. Why rolladens never made it in the States beats me.
Doorknobs in Germany are also a bit different. Instead of standard round doorknobs, you have a lever to open doors. Most doors in your home will have a skeleton key that you can use to lock your door from either side. Rooms other than bedrooms, including the living room or foyer, may also be portioned off with a door.
In the kitchen, you can expect smaller-sized refrigerators compared to American size fridges. The fridge you have at your German residence may resemble a glorified dorm room fridge. You can fit some veggies and meat in it, but forget about freezing anything larger than a shoebox. Expect to do more frequent but smaller trips Click here to read our blog about going to the grocery store in Germany.
Last but not least, you may want to inquire about parking spaces since they are not always a given, especially if you live in close proximity to a downtown area. You may have to rent a parking space or a garage that is not conveniently located to your front door.
While your living quarters in Germany may take some getting used to, the experience and knowledge you'll obtain will be invaluable.