Five Steps to Take Before Getting an Auto Loan
---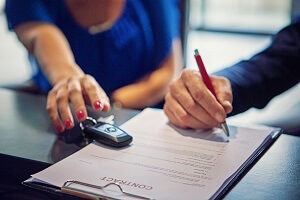 These days, buying a car is so easy, it can even be done from the comfort of your own home. The not-so-fun part: financing your new car.
While it's easy to get caught up in the excitement of shopping for features and functions, make sure you spend as much time researching how you'll pay for it as you research the car itself.
Whether you are buying or leasing a car, chances are you'll need to apply for a car loan. It's important to do your homework and get as much information as possible before deciding on the lender and plan that works best for your needs. In fact, having a financing plan in place before purchasing won't just save you time; it can save you thousands of dollars. Overwhelmed by the options? Here are the five most important steps to take before visiting the dealership.
1. Crunch the numbers first.
When deciding how much money you can spend on a car, look at the big picture. Are you also saving for a home? College for your children? Paying off student debt? Make sure you factor in all existing and upcoming expenditures before deciding how much you can spend on a car. Some banks or credit unions may offer money management tools or financial planners that can help you make these calculations, including our auto loan calculator.
Next, consider how much you can spend on both your down payment (the upfront payment) and on your regular monthly payments. While writing a big check for your down payment may not be fun, it'll help keep your monthly payments relatively comfortable in case of any major life changes. Don't forget to look at the interest rates on your loan as well, as the longer you drag out the payments, the higher the rates may be.
Beware of ending up with negative equity or an "upside-down loan," an increasing problem in which borrowers end up spending more on a car loan than the car is worth due to high-interest rates, long-term lengths, and the speed of car devaluation. If you have an existing auto loan and are trading in your vehicle, look carefully at how much you still owe, as rolling in the remaining balance may lead to or increase the possibility of a negative equity situation. Placing a down payment at the time of purchase will assist in avoiding negative equity. Be aware of the loan term and recognize that the longer the term, the more potential for increased negative equity over time.
2. Check your credit.
Your credit score will have a large impact on the interest rate you receive, as well as on whether or not you're able to qualify for special offers from manufacturers, such as cashback. Therefore, it is a good idea to check your credit reports for any issues before applying for a loan.
By federal law, you are entitled to one free credit report per year from each major reporting bureau (Equifax, Experian, and TransUnion). Many lenders use a combination of scores from these three bureaus, so your score may vary depending on the reporting service used. Oftentimes, a negative mark on your history may not be your fault, so make sure to report any potential erroneous items in writing to the credit reporting company.
3. Don't get overwhelmed by the dealer.
Zero percent financing, cash back, bonus cash: If only real life were like TV ads! While you may have heard your potential dealer advertising some of these hard-to-beat incentives, most financing options are usually only available to highly qualified buyers. It's important to shop around outside the dealership and consider the total overall cost of your car purchase.
Additionally, be aware of financing additional auto purchase expenses, such as sales tax and registration fees, as this could lead to the dreaded upside-down loan zone. Consider all back-end products carefully, such as warranties and gap coverage, and only purchase what you need. Inquire with your financial institution about such products, as they can often compete quite well with similar products.
4. Consider a credit union.
More and more borrowers are turning to credit unions for auto loans. That's because credit unions generally have lower rates than banks. Plus, they tend to have close ties to their communities and are more likely to work with their members on a personal level and assist them if things hit a rough patch. Credit unions may have more flexibility in the underwriting process and can help customize an offer based on the borrower's personal history. Some credit unions may even offer an Indirect Lending program, which makes financing with your trusted credit union easy and convenient while you're at the dealership.
Become a Service CU member today to start enjoying all of our benefits! We were recently named a top auto lender in the Northeast by CU Direct
5. Get preapproved.
Getting preapproved for your loan before going to the dealership will give you the security of knowing that you can cover the cost of the car you want. You'll also be able to view your total budget more effectively, so you can really get everything you want in your new car.
You can get preapproved by a credit union, bank, or online dealer. After applying either in person, online, or over the phone, potential lenders will review your application and discuss financing options you qualify for, including interest rates, terms, and payments. If you're preapproved, the lender will provide a statement, which may be a certificate, a letter, or a blank check with a set credit limit.
Getting preapproved doesn't mean you have to commit to the offer, but it is certainly a good idea to bring the offering statement to the dealership.
There you have it! While a car is one of the biggest purchase decisions you can make, figuring out the financials for it doesn't have to be scary. Have more questions about the process? Contact Service Credit Union, or if you're ready to get started, apply for your auto loan today!