Service Credit Union Wins 2020 Rochester Business of the Year
---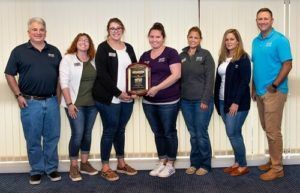 Service Credit Union is excited to announce we have won the 2020 Rochester Business of the Year Award.
The awards were announced during a virtual banquet held by the Rochester NH Greater Chamber of Commerce on September 17, 2020. Also recognized during the awards were the 2020 Citizen of the Year, Lisa Stanle of Wit-Way Supply, and the 2020 Nonprofit of the Year, awarded to Haven, a violence prevention and support services agency.
The Business of the Year award celebrates excellence in a business' industry and in the community. Service Credit Union has been in the Rochester area since 2003, when it purchased the former Kendall Building and turned it into a branch at 90 S. Main St. The branch recently moved across the street to the former D'Angelos building at 83 South Main St., where it has created a modern, high-tech space focused on financial wellness. Service CU was recognized for its commitment to the Rochester community, which includes supporting organizations such as Haven and the Revolution Food Pantry, as well as sponsoring the Rochester Holiday Parade and performing Random Acts of Kindness throughout the year.
"This award is a credit to the staff of our Rochester branches and for the work that Service Credit Union does in the community. Whether it be assisting veterans or different nonprofits and organizations in the area, Service CU knows we have an important role to play. We're very proud of this honor, and I'm proud to be part of an organization that allows staff members to be so involved in their community," said Dan Clarke, senior vice president of member experience at Service Credit Union.