USO Names Service Credit Union as a Mission Partner
---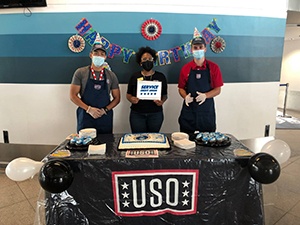 Service Credit Union is excited to announce it is an official Mission Partner of USO Europe. The Mission Partnership brings the nonprofit organizations together behind a clear goal: to support the military community.
While Service Credit Union has been a longtime supporter of the USO, the Mission Partnership will expand Service CU's outreach to the USO Europe's military communities and expedite the response time to deploy support for the communities' emergent needs.
The partnership will include the USO's monthly Coffee Connection, a space where military spouses can share each other's stories, experiences and resources to include financial education topics. Local community support continues with regularly scheduled sponsored events such as Sun and Fun, Thanks for Thanksgiving program, Trees for Troops, single service member holiday dinners, newcomers' orientation, a mentorship program and welcome center events. This partnership allows these events and initiatives to be free of cost to the military community.
The partnership brings the support to a central point for immediate turnaround and execution. Installation organizations that support the military require quick and agile response times. By partnering with the USO, Service Credit Union's support is immediately deployed where it is needed most, whether it be for an Army unit lunch contest, welcome center supplies or the Afghanistan evacuation on Ramstein Air Base.
"Service Credit Union is honored to partner with the USO, a prestigious organization whose endless and tireless support helps our military families continue their mission," said Wendy Beswick, Vice President of Marketing, Service Credit Union.
"I'm so very proud to say Service Credit Union is our mission partner. Service CU is one of those organizations that truly cares about their military community and shows it every day. We're deeply grateful for their partnership and honored to be working with them to provide meaningful programs and services to our nation's heroes," said Grant McCormick, Regional Vice President of USO Europe and Southwest Asia.