Ten (Almost Free) Activities to Enjoy this Fall
---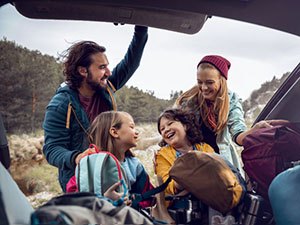 Fall is here and you know what that means: It's time to reevaluate our budgets and get ahead of saving for the holidays. I'll be the first to admit that I love fall. I am about as pumpkin spice latte-loving, apple picking, dump a pile of leaves on me, basic as they come. But, if you are anything like me (and let's be real you know you are), you know that fall activities can be pretty spendy. That is why I have come up with the ultimate list of (almost) free activities for us to enjoy this fall that won't break the bank. So strap on your knee-high boots, grab an infinity scarf and a flannel and get ready to experience some autumnal joy.
Here are 10 (mostly free) activities to enjoy this fall.
Paint or carve pumpkins
This is a necessary activity to do each fall. Instead of spending money at a large commercial farm, shop local and select your orange beauty from a farm in your neighborhood. The pumpkin may not be free, but the carving and decorating are! The best part about decorating a pumpkin is scooping out the goop with your hands and enjoying the salty, baked pumpkin seeds as a snack.
Go to a show or movie in the park
Do some research on EventBrite or in your local Facebook groups. Parks often screen movies for free in the evenings. All you need is a blanket and some bug spray and you are in business. The best part is screenings like this are typically free or available for a small donation to the hosting organization.
Leaf peeping
Taking a walk is a fun and completely free activity. Break out your camera, enjoy the crisp fall air and the warm golden colors, and go leaf peeping. If you live in a place where the leaves change colors, go check out the view. Utilize this map to track when the leaves will change near you.
Make your own fall decorations
While you are out leaf peeping, keep your eyes peeled for any natural beauty you could take home and decorate with. Fall leaves, flowers, dried grass and dried birch are great to add to a vase or a fall-themed wreath.
DIY Halloween costume
The start of fall also means Halloween is right around the corner, and boy can Halloween costumes be expensive. In my family, we made it our mission to DIY our Halloween costumes. Head to Pinterest for some Halloween costume ideas and see what you and your friends can create with the clothes you already have in your closet.
Halloween movie-a-thon
Speaking of Halloween, what's an October without at least one scary movie-a-thon? Skip the expensive theaters and host a movie marathon in your living room. I recommend sticking to the classics: "Scream," "Hocus Pocus" and "The Shining."
Share fall food with friends
Getting the check at your favorite restaurant with friends can be nerve-wracking. Skip the credit card roulette, and invite your friends over to share fall foods at home. Cheese boards, cookies and soups are easy to make, plus choosing an item to bring allows you to control how much you would like to spend.
Volunteer
Giving back to your local community is rewarding and free. Lend a hand at a local food pantry to help support your neighbors in-need. According to the Take Out Hunger, since the spread of COVID-19, there are approximately one in seven men, women and children in New Hampshire who are food insecure, meaning they do not know when or where their next meal will come from. You could sort food, assist with a mobile pantry, deliver meals, and even volunteer from home.
Fall camping
Camping is a great way to feel like you are on vacation without spending any money. Do a bit of research and find a free campsite near you. Be sure to pack layers for those cool fall nights! Pro tip: While on your camping excursion, enjoy a hike.
Make a game out of saving for a winter trip
Finally, turn planning for the future into something fun. Thinking about escaping to somewhere tropical during the winter season? Sit down with your partner or family and make up a savings challenge. A popular one right now is the 100 envelope challenge – you start with 100 envelopes and write one number from 1-100 on each envelope. You then shuffle the envelopes and place them into a bucket or basket. Each day you draw an envelope and whatever number you draw, you place that amount of cash inside and you do this for 100 days until the envelopes are filled.
Whether you are a fan of pumpkin spice lattes or apple cider, there are countless ways to enjoy the fall season without blowing your budget. For the activities that are (almost) free, use your Visa Signature Everyday Elite card to maximize your rewards and pay yourself back when you spend. For more savings tips and tricks, visit https://servicecu.org/resources/blog/.