Your A-Z Guide to Mortgage Types
---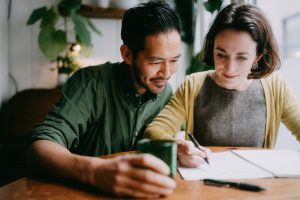 Getting ready to buy a home? You should know that when it comes to mortgages, one size does not fit all. Learn more about the mortgage types available and decide which one is right for you.
Need a little extra guidance? Check out one of our upcoming first-time homebuyer webinars, at no cost or obligation to you.
Before we get into some more niche mortgage types, the two major flavors of mortgage are Fixed Rate Mortgage and Adjustable Rate Mortgage. A fixed rate mortgage is a type of real estate loan where the interest rate remains unchanged during the mortgage term (unlike an Adjustable Rate Mortgage, below). These mortgages are ideal for borrowers who want to lock in their rate and know what their monthly payment will be.
With an Adjustable Rate Mortgage, you may get a rate below market rate for a specific number of years, and then after that fixed period, it becomes adjustable after a set frequency (for example, annually or semiannually.) While this may sound risky in its unpredictability, there are many pros and cons to consider.
0% Down Home Loan
While a typical mortgage may require a significant down payment, some lenders, such as Service Credit Union, will offer a 0% down payment option for first-time homebuyers. Creditworthiness and debt-to-income ratio must be considered for this offer.*
USDA Rural Development Loan
The USDA Rural Development loan is a type of 0% down payment loan issued through the USDA loan program for eligible rural and suburban homebuyers (must be under a certain household income). This is a great option for low- to moderate-income buyers who don't mind being outside of city limits – and you'd be surprised by how many areas qualify for that! Any area with a population of 35,000 or less can qualify for a USDA Loan, and many financial institutions participate in the program, including Service Credit Union*
VA Loan
If you've served your country, you may qualify for a no or low down payment loan with a below market interest rate. Veterans Affairs Home Loans are privately issued but government-backed mortgages for active and retired military members. Service Credit Union provides VA loans for our veteran members. They're only for a primary residence, and your eligibility will depend on your credit score and income. Another advantage of a VA Loan compared to a conventional loan is that there is no monthly mortgage insurance.
Home Construction and Land Loans
Sometimes, finding your dream home isn't in the cards – but that doesn't mean you can't build one! A home construction loan will give you the funds you need to purchase a home and build your home, while a land loan will – you guessed it – provide funding for borrowers to finance the land on which they will ultimately construct a residential property, whether it's a primary residence or a second home. Learn more about construction loans here.
Real Estate Rehab Loans
If, rather than building a home from scratch, you'd prefer to put some love into an existing home that might need a little work, a real estate rehab loan may be right for you. This unique program gives you cash for both the purchase and the renovation in one simple fixed-rate mortgage, with only one closing. To qualify for this loan at Service CU, you must hire a general contractor and submit renovation plans and specifications. When the renovations are complete, you continue to pay the same principal and interest that you have paid since purchasing the property.
Jumbo Loan
If you're looking at a property with a hefty asking price, you may need to apply for a jumbo loan. A jumbo mortgage is a home loan that exceeds conforming loan limits. Conforming loans are mortgages that conform to financing limits set by the Federal Housing Finance Agency (FHFA) and meet underwriting guidelines set by Fannie Mae and Freddie Mac, whereas nonconforming loans do not. Loans above the conforming limit are known as jumbo loans, and the terms and conditions of these mortgages can vary widely from lender to lender, including affecting the minimum down payment, qualifying criteria and mortgage rate. Many lenders will require a hefty minimum down payment for these loans, and factors such as debt-to-income ratio and creditworthiness will be considered. In 2023, the jumbo threshold is $726,200 in most U.S. locations, but can be much higher in some areas, including parts of New Hampshire and Massachusetts.
Let us help you find the mortgage that fits your needs! Talk to one of our real estate lending specialists today.
*Applicant subject to creditworthiness, debt-to-income, and property requirements. Please contact a mortgage specialist for additional program details and requirements.