Mobile Banking
Bank on the Go With Our Mobile App
Enjoy the benefits of banking from your phone, tablet or smartwatch
Mobile banking gives you easy access to your account information right from your phone, tablet or smartwatch, allowing you to monitor your finances wherever you are. With just a few taps, you can view your deposit and transaction history or transfer money between accounts. You can also have earlier access to important documents, such as your tax statements.
Service CU Mobile App
Download our free mobile app for iOS or Android to deposit checks, transfer funds, pay bills, locate branches and more, all from your smartphone or tablet.
Mobile Payments
Turn your phone into your wallet by using Apple Pay®, Android™ Pay or Samsung™ Pay* and make in store purchases without ever having to swipe your card.
Smartwatch Payments
Make payments with a tap of your Apple Watch®, Android Wear™, Fitbit™ or Garmin™ by connecting your Service Credit Union credit or debit card to your mobile app. Just add your info through your watch's mobile app on compatible devices, and use anywhere you see the contactless payment symbol.
Alexa Voice Banking
Check balances and account history for your accounts with voice banking through Amazon. You can add these capabilities, called Alexa Skills, to any Alexa enabled device using the Alexa app. Get started.
Card Control
Tap "More" then "Card Control" in the Service CU mobile app or "Financial Tools" then "Control Control" in online banking to view your debit and credit cards in one spot and set up alerts and spending limits by vendor type, spend amount, and location. You can even set limits for dependents' credit cards, or anyone else on a joint account.
SMS Banking
Account information and transfers are just a text away from your mobile phone. Available on phones in United States, Germany, U.K. and Italy. To sign up, log in to online banking and go to "Notifications" -> "Settings" -> "Text Message Banking" to add or change your phone number.
For US based phone numbers, text the following commands to 454545.
For Germany based phone numbers, text the following commands to 81110.
For Italy based phone numbers, text the following commands to 393202041970.
For U.K. based phone numbers, text the following commands to 447786200840.
BAL Primary balance
LAST Last 5 transactions
TRANS transfer funds to primary account
STOP Deactivate service
HELP Help keywords
Discover how easy it is to navigate our mobile app with the following tutorials:
Take a Tour of Our Mobile App
From bill pay to transfers and more, get convenient money management on the go with the Service Credit Union mobile app.
Signing Up for eCommunications in Online Banking
Cut down on clutter and get the latest updates from Service CU in real time. Here's how to get started.
Register for online banking by clicking here. You'll need your member number as well as your Call 24 PIN (the last four digits of your Social Security Number), which are provided to you at the bottom of your welcome letter. If you've already registered, log in here. If you do not know your member number, please contact us at 800.936.7730 (U.S.) or 00800.4728.2000 (International).
Once logged into online banking, navigate to "Statements and Documents" and accept the eCommunications agreement.
Once accepted, you'll be able to view eStatements and other important documents as they become available.
Pays Your Bills Online
Pay bills quickly and easily from your phone or online banking, and even set up recurring bill pay. Here's how.
Transfer Money With Zelle®
Send and receive money with Zelle® right from the Service CU mobile app. It's fast, safe and easy. Simply open your mobile app, and go to "More" then "Send money with Zelle®" to enroll.
Card Control
Set up alerts and spending limits by vendor type, spend amount, and location. You can even set limits for dependents' credit cards, or anyone else on a joint account.
Remote Check Deposit
Skip the trip to the ATM or branch and get access to your funds in real time with remote check deposit.**
Pay Your Loan Online
Pay your Service Credit Union loan on the go with online banking or the mobile app, and simplify life with recurring payments.
Find out how much money you have to pay off your loan:
Log into the mobile app.·
Select "accounts" on the bottom left of your screen.
Scroll through your accounts to find your loan.
Click on your loan.
Click details and view the pay off amount.
Mobile Bill Pay
Pay your bills quickly and easily using Bill Pay in your mobile app.
1) Select "Bill Pay" from the bottom of your mobile app screen.
2) To add a new bill pay recipient, select "Payees"
3) Type the name of the person or business and tap "Add"
4) Add your account number as it appears on your bill and the billing address of the payee
5) Set up a one-time or recurring payment.
Schedule a Recurring Transfer to an Account Outside of Service CU
Log into the mobile app.
Click more on the bottom right side of your screen.
Select the "external transfers".
Click the drop down that says, "I want to" and choose "schedule recurring transfer" and follow the prompts to enter your external account information.
Manage Your Spending
Track your spending and set a budget to reach your goals more quickly.
Pay Bills Internationally
Use International Bill Pay to pay foreign bills in local currencies all over the world.
Get Account Information With Alexa Voice Banking
1. Skills can be enabled using the Alexa app or by visiting alexa.amazon.com. Once you locate the skill, click the Enable Skill button and proceed to Account Linking.
2. Read and accept the Alexa Skill Terms and Conditions before logging in through Account Linking.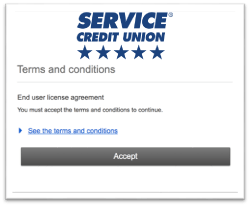 3. On the account linking page, log in using your online banking account. You will then be prompted for MFA (multifactor authentication). After successful MFA, users must establish a 4-digit PIN, which is used with each Alexa session for authentication. (Members can change their PIN by re-linking their accounts. If a member does not use Alexa for 30 days it will ask them to re-link their account because the token expires.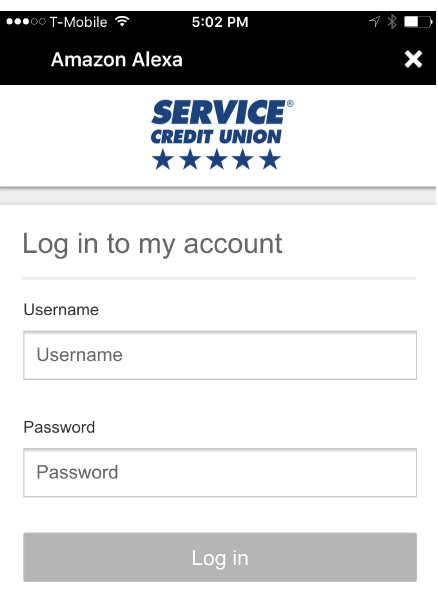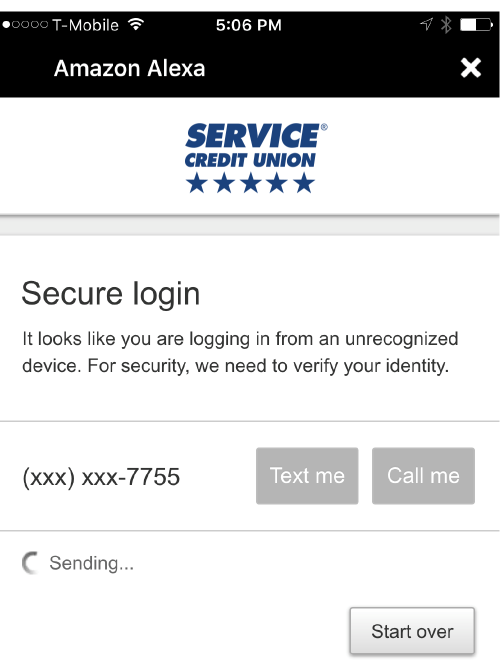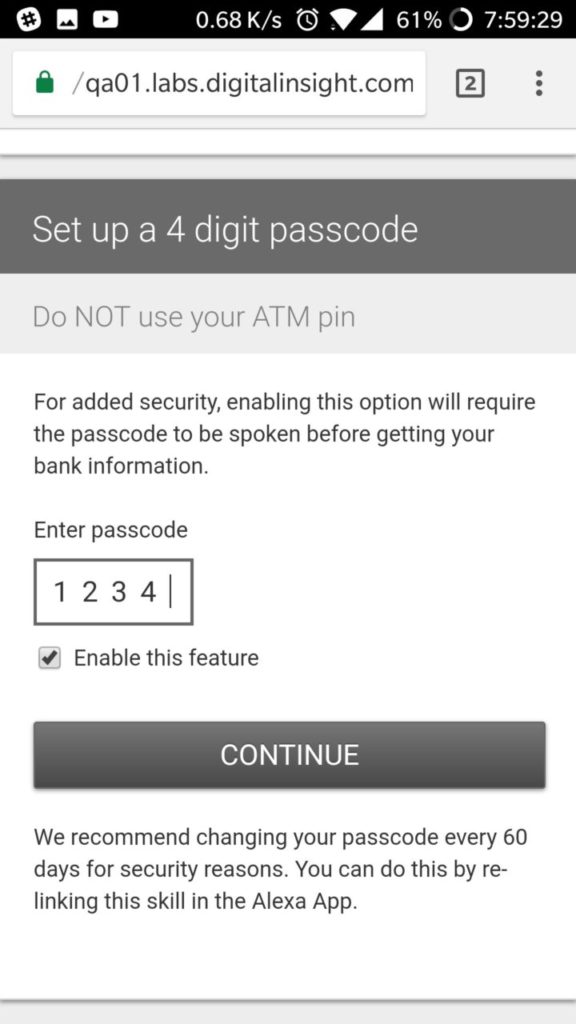 4. After setting up, pose your request in the following format: "Alexa, what is the ___ for my ___ account; e.g., "What is the balance for my savings account?" If user intent is vague (e.g., an account is not specified), Alexa may ask a follow up question, such as "which account?"
5. Each session must be authorized by the voice PIN established in step 3. Sessions remain active until the skill is exited or times out. Any person with access to the voice PIN can authorize a session with a device that has already been linked.
Access Your 2020 Tax Documents
To view your 1098 or 1099 tax form, please follow the below instructions:
On Your Mobile App
Tap "More" in your app options
Tap "Statements"
A window will display "You are viewing online statements for" and there will be a month/year followed by an arrow icon. Click the down arrow icon.
Change the month to December 2020
There will be a document that shows type of "IRS Tax Report" dated Dec 31, 2020. Click the PDF icon to open it.
Mobile Banking Features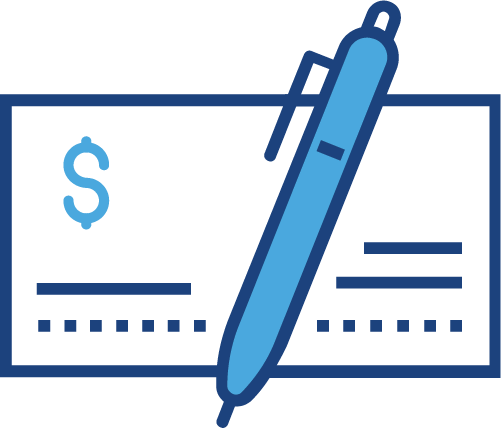 Online Deposit
Deposit checks directly from your mobile device or computer.**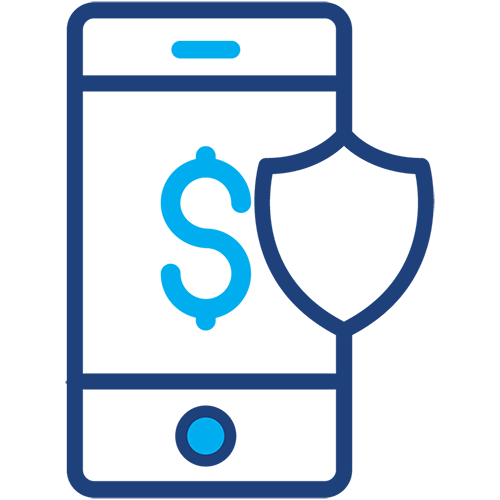 Mobile Banking Security (Touch ID)
Log into our mobile app securely with a single touch on your iPhone.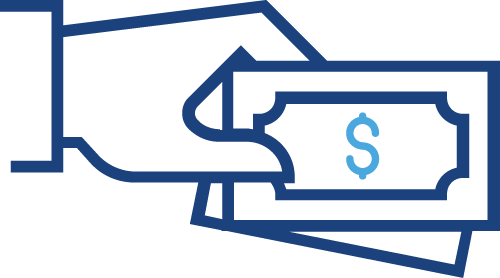 Send money to anyone through online banking or our mobile app.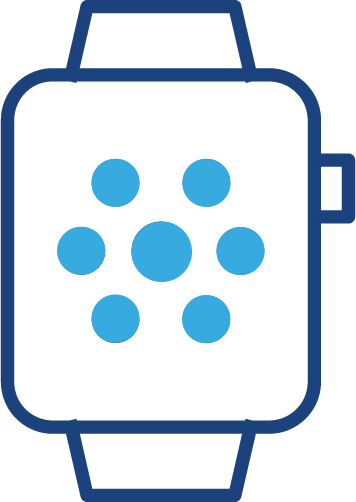 Smartwatch Payments
Make payments with a tap of your Apple Watch®, Android Wear™, Fitbit™ or Garmin™ by connecting your Service Credit Union credit or debit card to your mobile app.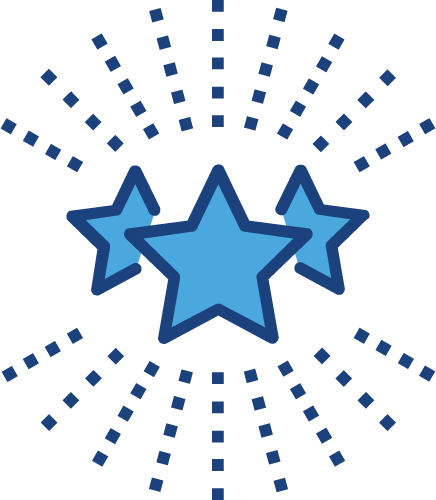 Purchase Rewards
Earn rewards from participating vendors when you use your debit card for select purchases.
*Apple Pay is a trademark of Apple, Inc. registered in the U.S. and other countries. Android Pay works with cards from most banks: To learn more click here. Android Pay works in these stores & apps: For more information and to download the app click here. Android is a trademark of Google LLC. Eligible Devices for Samsung™: Samsung S7, S7 edge, S7 active, S6, S6 edge, S6 active, S6 edge+ and Note5. Samsung Pay is a trademark of Samsung in the United States or other countries.
**Must be 18 years old to deposit checks remotely. Members between the ages of 13 and 17 years old must have a parent/legal guardian accept the terms and conditions. Standard funds availability policy and other restrictions apply. Please see terms of use agreement for additional details. Checks deposited in real time are subject to Service Credit Union discretion.
Zelle and the Zelle related marks are wholly owned by Early Warning Services, LLC and are used herein under license.
CardValet is a registered trademark of Fiserv Inc.
Apple Watch® is a registered mark of Apple Inc.
Fitbit Pay is a trademark of Fitbit, Inc.
Garmin Pay is a trademark of Garmin Ltd.