What to Know Before You Buy a Car
---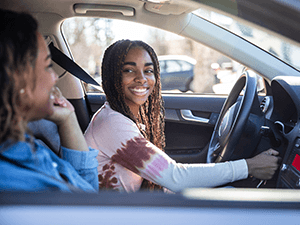 Whether you're buying a new or used car, the process can be overwhelming. To save yourself both time and money – not to mention a few headaches – follow these tips to be prepared to get the best price on your vehicle before you step foot in a dealership.
Know your credit score
Before you even apply for a loan, make sure to check your credit score to know what you may qualify for.
Your credit score will have a large impact on the interest rate you receive, as well as on whether or not you're able to qualify for special offers from manufacturers, such as cashback. Therefore, it is a good idea to check your credit reports for any issues before applying for a loan.
By federal law, you are entitled to one free credit report per year from each major reporting bureau (Equifax, Experian, and TransUnion). Many lenders use a combination of scores from these three bureaus, so your score may vary depending on the reporting service used. Oftentimes, a negative mark on your history may not be your fault, so make sure to report any potential erroneous items in writing to the credit reporting company.
Learn what ingredients make up your credit score to start improving yours, and make life easier when applying for a loan. If you are a Service CU member, remember that you can quickly check your credit score in online banking.
Set a budget
Depending on whom you ask, you'll usually find experts recommend spending no more than 20% of your monthly take-home pay on your car, including insurance, gas, and repairs – which really means no more than 10-15% should go toward the payment itself.
Determine what you need from a car, and use an online car finder tool to narrow down your options by size, cost, and features. If you find that a brand-new car is out of your budget, don't be shy about buying pre-owned.
Unsure about buying a used car with no warranty? Look into manufacturer-certified pre-owned cars, which are usually low mileage options with manufacturer-backed warranty coverage.
Shop around for the best loan and get preapproved
While your car dealer will be able to pull up some loan options for you, it's a good idea to do your own research beforehand to know the options available to you. Because they are owned by their members, credit unions often offer a better auto loan rate than their big-bank counterparts.
Getting preapproved for your loan before going to the dealership will give you the security of knowing that you can cover the cost of the car you want. You'll also be able to view your total budget more effectively, so you can really get everything you want in your new car.
Compare prices, including trade-in vehicles
If you have a car to trade-in, you can put that sale price toward the down payment of your new vehicle.
But, just like you should shop around and research prices on your new vehicle before going to the dealership, you should research your existing car's value as well.
Sites such as Kelley Blue Book, US News, and TrueCar can provide an estimated value for your trade-in as well as your next car. Many local dealers will also list their prices online, so you can be prepared when it's time to negotiate, without traveling all over to do so. You should also visit dealer sites to look for rebate offers.
Check out your car's history and repair record
If you are buying preowned, doing a little extra research on the particular vehicle you're eyeing could save you money in the long run. Services like CARFAX  promise to tell you about the car's life from the first purchase forward, including accident data and service history. You will need a VIN, or vehicle identification number, to do so. You may even want to hire a mechanic before purchase to ensure there aren't any problems.
Test drive and go!
Taken all the above steps and found the perfect car for you? Congrats!
We're here for you whether you are looking to get preapproved for your upcoming purchase, or if you change your mind about a loan and want to refinance. Happy shopping!